Fox News show host Sean Hannity is pondering a lawsuit against competing network CNN.
"What does — how do I get an apology from CNN?" Hannity asked on his radio show Thursday. "Should I — I would love to sue them for slander when they say, 'Oh, he wants Hillary [Clinton] on her deathbed and dead,' when I said just the opposite."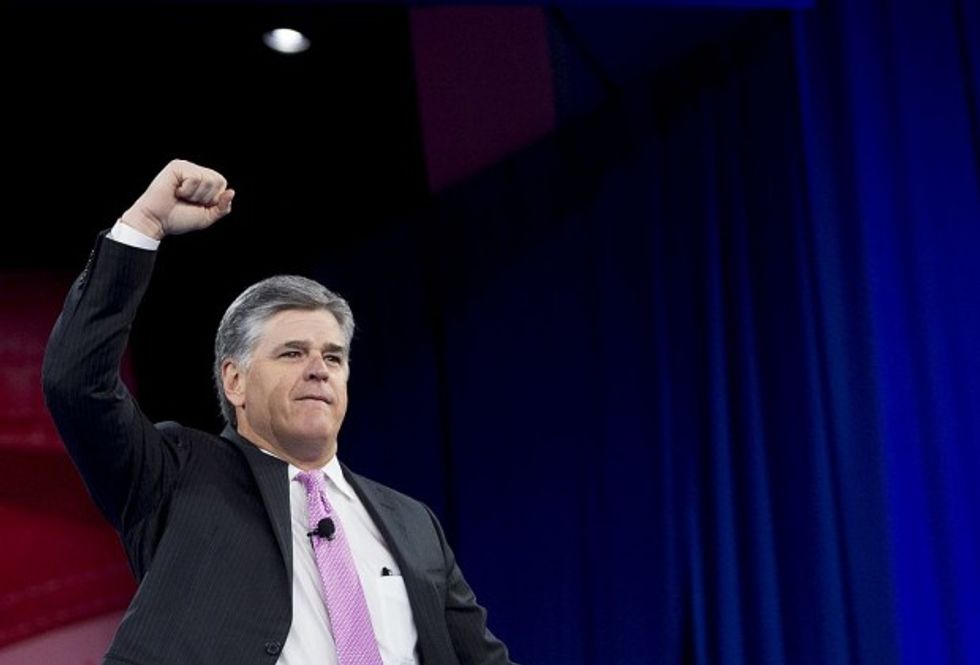 SAUL LOEB/AFP/Getty Images
Hannity's consideration comes in response to an assertion by CNN media analyst Brian Stelter to PBS' "Charlie Rose" Wednesday. Stelter, borrowing from Clinton's "basket of deplorables" gaffe, said the way in which several conservative media figures — to include the Fox host — have covered Clinton's health proves they belong in a "truly deplorable basket."
"These are people who bring up rumors and innuendo about Clinton's health, and have been doing it for years," Stelter told PBS.
"I'm not saying Hannity or [radio host Rush] Limbaugh fit into these necessarily, but they — some of these figures want her to be sick," he continued. "They want her to be dying. They want her to be on her death bed."
Earlier in the summer, Stelter also similarly accused the Fox host, an unflinching supporter of Donald Trump, of peddling conspiracy theories about Clinton, the Democratic nominee for president.
Several weeks ago, Stelter went after Hannity, saying the conservative talker "is not a journalist" — an assertion the Fox host does not deny. In August, Stelter hit Hannity for "reckless speculation" about Clinton's health, a topic the Trump backer often leads with on his 10 p.m. Fox program.
"Last time I checked, Fox still has the word 'news' in its name," Stelter said.
The intense criticism did not go unnoticed by Hannity, who quickly counterpunched, calling the CNN anchor a "little pipsqueak," adding that the show Stelter hosts, "Reliable Sources," is "sort of like the Media Matters show," referring to the liberal media watchdog.
In an appearance on Fox & Friends earlier this summer, Hannity blasted CNN's coverage of Trump.
"[Stelter] allowed this arrogant professor from the Kennedy School of Journalism to talk about Trump being a demagogue, and demagogues like Trump become dictators — that's the type of coverage that CNN offers in this presidential race," he said, "as they literally kiss Hillary Clinton's ass and Obama's ass everyday."
Limbaugh, who said Stelter "sounds like a basket case," asserted on his radio program Thursday that he never displayed any ill will toward Clinton. A review of previous transcripts by The Hill showed Limbaugh expressed concern over the Democratic nominee's health, but nothing further.
Limbaugh also came to Hannity's defense.
"I know Sean Hannity, he doesn't want anyone to die. What is this? This is — it's bottom of the barrel stuff," he said.
—
Follow the author of this story on Twitter: