NEW YORK — Speaking to a room full of New Yorkers at the prestigious Waldorf Astoria Hotel in Midtown Manhattan, Republican presidential nominee Donald Trump promised to eliminate taxes for low-income Americans while growing the U.S. economy.
"Low-income Americans will pay no income tax at all," Trump told those gathered at the Economic Club of New York's Thursday luncheon. "In fact, our plan will remove millions and millions of workers form the income tax rolls entirely."
"By lowering rates, streamlining deductions and simplifying the process, we will add millions of new jobs," Trump promised.
In fact, 25 million jobs is what Trump promised.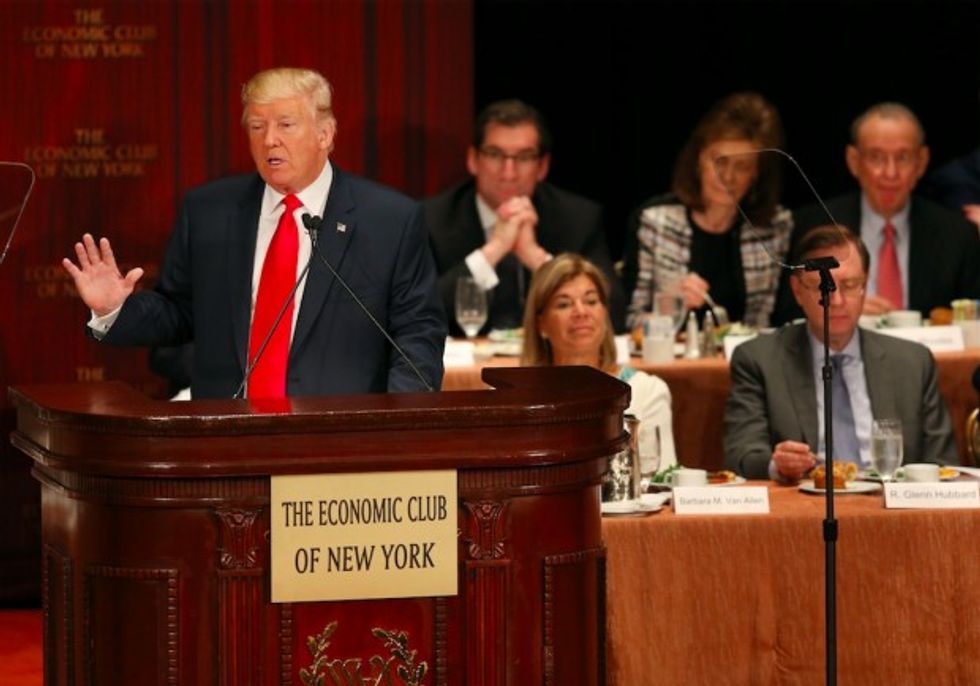 Republican presidential candidate Donald Trump speaks at a luncheon for the Economic Club of New York in Manhattan on Thursday. (AP Photo/Seth Wenig)
"Over the next 10 years, our economic team estimates that under our plan the economy will average 3.5 percent growth and create a total of 25 million new jobs," Trump said. "You can visit our website. Just look at the math, it works."
Using Flint, Michigan, as an example, Trump argued that his economics plan will "embrace the truth that people flourish under a minimum government burden."
"It used to be cars were made in Flint, and you couldn't drink the water in Mexico. Now cars are made in Mexico, and you can't drink the water in Flint," Trump quipped.
But Trump faced intense scrutiny over his plans ahead of Thursday's speech. As CNN Money reported earlier that day, Trump's economic, immigration and tax plans could cost the country $1 trillion over the first five years as well as 4 million jobs, according to British forecasting firm Oxford Economics.
"Combining these policies together, the impact could be significantly negative for the U.S. economy," Jamie Thompson, head of macro scenarios at Oxford Economics, told CNN Money.
And the Democratic National Committee slammed Trump in a lengthy statement that pointed to the irony that Trump's speech came on the anniversary of the Lehman Brothers collapse in 2008: "We can expect Trump to offer more of the same failed economic policies that preceded the crisis in the first place: rolling back Wall Street reform, tax cuts for the rich and nothing for hardworking middle-class families," said DNC general election chief of staff Brandon Davis.
But despite criticisms, Trump maintained his confidence Thursday as he promised to "make America wealthy again" — a play on his famous campaign slogan — and opened his speech by bragging about rising poll numbers. He reiterated his plan to "establish a national goal of reaching 4 percent economic growth" — a plan initially put forward by former GOP presidential candidate Jeb Bush more than a year ago.
But then Trump took it a step further: "I think we can do better than that," he said, adding that the "great economists" on his team will be "very upset" at his prediction. "I think we can do substantially better."
The real estate tycoon also promised not to default on American debt when asked during a question-and-answer portion of the luncheon following his speech.
"I love negotiating debt, but with the United States it's something beyond the gold standard. The debt of this country is absolutely sacred," he said.
Along with hitting Democratic opponent Hillary Clinton as a nominee who would help only "the donors and special interests" as president, Trump continued to push his own proposal as a family affair — crediting daughter Ivanka Trump not just on her role in creating his childcare plan but also for her help on his economics plan as a whole.
Of course, Trump also tied in the wall that he said he plans to build along the U.S.-Mexico border, adding that when compared to the trade deficit, the cost of building that wall — which he said will be paid for by Mexico — is "peanuts compared to what we're talking about."
"I'm not running to be the president of the world. I'm running to be president of the United States of America," Trump said. "As your president, I will fight for every last American job and every American company."
Clinton is polling only 1.8 percentage points ahead of Trump in a head-to-head matchup as of Thursday, according to Real Clear Politics' aggregated polling data.
—
Follow Kaitlyn Schallhorn (@K_Schallhorn) on Twitter