PHILADELPHIA (TheBlaze/AP) -- A wild chase and shootout through the streets of West Philadelphia left two police officers and four civilians wounded and a suspect fatally shot.
Philadelphia Police Commissioner Richard Ross said Sgt. Sylvia Young was ambushed late Friday night and shot a number of times in the arm and protective vest. He said Ed Miller, a former police officer who is now a member of the police force at the University of Pennsylvania, was also wounded. Both were in stable condition early Saturday at Penn Presbyterian Hospital.
Two of the four civilians who were wounded were in critical condition, Ross said.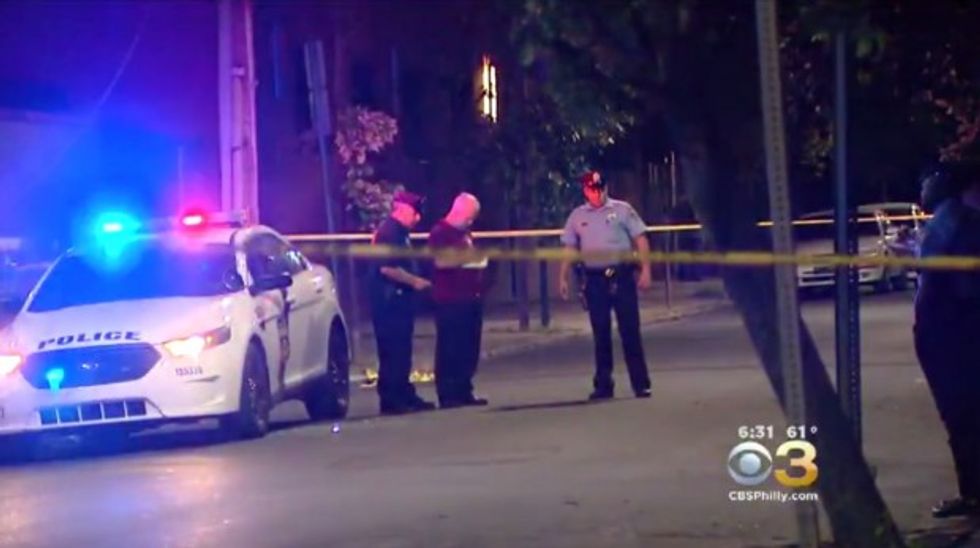 Image source: KYW-TV
Young, a 19-year police veteran, was sitting in her vehicle at about 11:20 p.m. when she was ambushed by the suspect, who fired numerous shots, Ross said. Young was struck up to eight times, multiple times in her protective vest and left arm.
The suspect fled, Ross said, and shot into a nearby bar, striking a security guard in the leg. The man then grabbed a woman and used her as a shield before shooting her in the leg.
Moments later, as police gave chase, the suspect shot into a car, striking a man and a woman in the chest. Ross said they were both in critical condition.
Ross said Miller and two police officers chased the man into an alley, where he was shot and killed. However, according to KYW-TV, police may be on the lookout for a second suspect as the details surrounding the shooting remain unclear.
The identities of the suspect and the others who were injured were not immediately released.
Watch below via KYW:
—