A Dallas police sergeant has filed a lawsuit against Black Lives Matter and President Barack Obama, alleging that they and others are "igniting a race war."
Sgt. Demetrick Pennie, a black 17-year-veteran of the Dallas police force, filed the suit in a Dallas federal court Friday. According to the Dallas Morning News, the suit seeks more than $500 million in damages.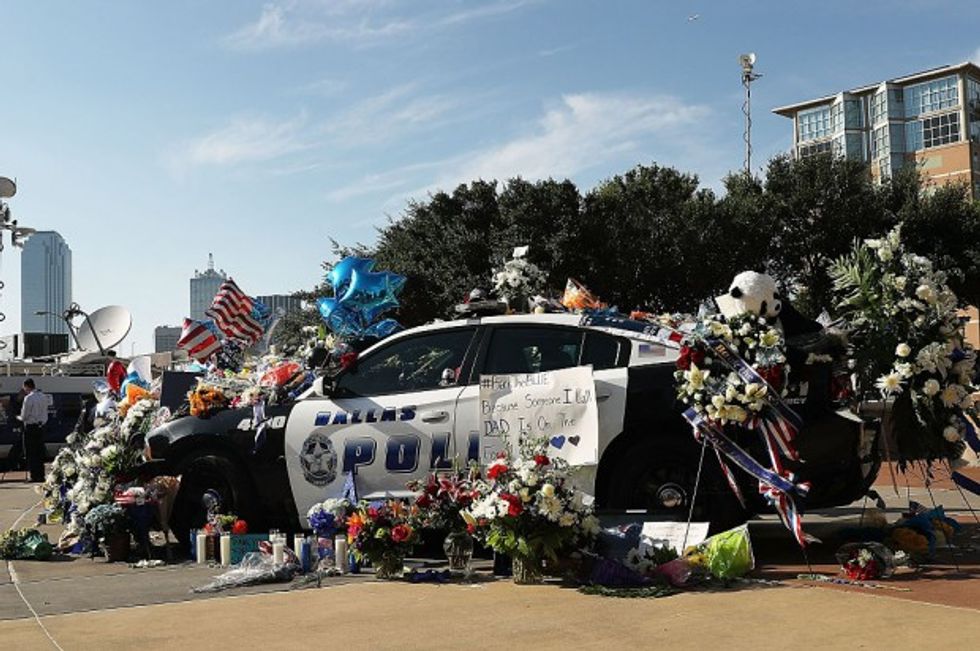 People left condolence notes and flowers at a memorial in front of the Dallas Police headquarters in downtown Dallas following the deaths of five police officers on July 8. (Getty Images/Spencer Platt)
In addition to the Black Lives Matter movement and Obama, the lawsuit also lists Al Sharpton, Louis Farrahkan, George Soros, the New Black Panther Party and even Democratic presidential nominee Hillary Clinton as defendants.
"Defendants incite people to violence and cause violence by telling those people that they are under attack. Defendants are encouraging disaffected blacks, Black Muslims, Muslims and others allied with them including certain whites to ignore, disrespect, and assault law enforcement officials, and commit violence and lethal force," the 66-page suit reads, according to the Morning News.
The defendants "have repeatedly incited their supporters and others to engage in threats of and attacks to cause serious bodily injury or death upon police officers and other law enforcement persons of all races and ethnicities," it goes on to say.
Pennie is being represented by former federal prosecutor Larry Klayman of Freedom Watch USA. Klayman also founded the government watchdog group Judicial Watch.
"Sergeant Pennie and I feel duty-bound to put ourselves forward to seek an end to the incitement of violence against law enforcement which has already resulted in the death of five police officers in Dallas and the wounding of seven more, just in Texas alone. Other assaults and deaths have occurred elsewhere," Klayman said in a press release.
"While the case was filed in Texas, it will create precedent around the nation that law enforcement, which ironically protects the very persons who are alleged to have incited this violence, should be respected," he added. "The defendants, if not legally reined in, are allegedly responsible, along with others, for igniting a race war that will ultimately totally destroy the freedoms that our Founding Fathers bequeathed to us."
The suit was filed just hours before two Texas police officers were shot while responding to a suicide call.
—
Follow the author of this story on Twitter and Facebook:
[facebook //www.facebook.com/plugins/like.php?href=