White House press secretary Josh Earnest declared Monday that the United States is in a "narrative fight" with the Islamic State terrorist group.
During an interview on CNN regarding the bombings that took place in New York and New Jersey over the weekend, host Chris Cuomo showed a picture of a suspect wanted by the FBI in connection with the attack, Ahmad Khan Rahami, a naturalized citizen from Afghanistan. He then asked Earnest if the attacks raise "the specter of the fear, the xenophobia of those who are getting into this country and whether they are efficiently vetted in a way that has to be done … is this a reflection of not getting it done?"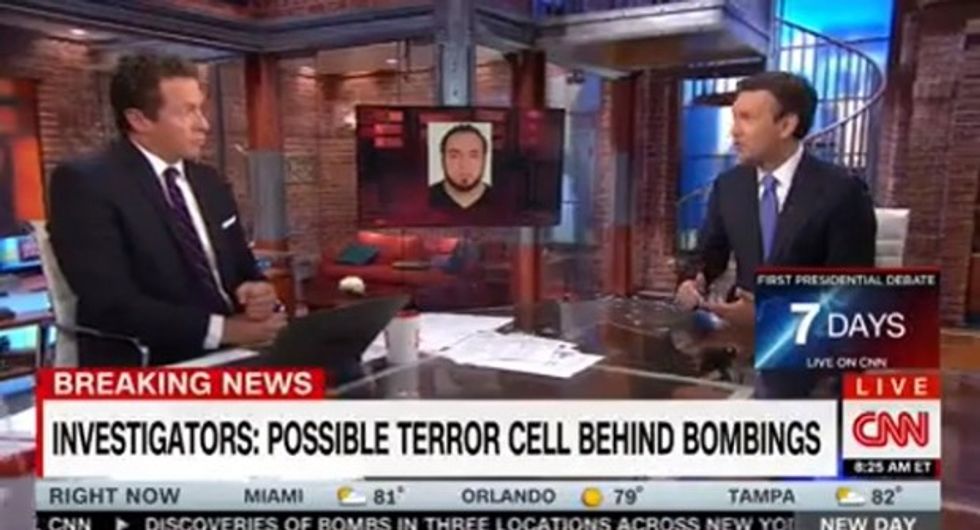 CNN host Chris Cuomo, left, interviews White House press secretary Josh Earnest. (Image source: CNN)
Earnest replied, "When it comes to ISIL, we are in a fight, a narrative fight with them, a narrative battle":
What ISIL wants to do is they want to project that they are an organization that is representing Islam in a fight and a war against the West, and a war against the United States. That is a bankrupt, false narrative. It's a mythology, and we have made progress in debunking that mythology.
Earnest added, "We can't play into this narrative that somehow the United States or the West is fighting against the Muslim religion."
"The fact is there are millions of patriotic Muslims in this country right now that make our country proud," he said. "They serve in our armed services. They serve in our law enforcement. … These are individuals who make a substantial and positive contribution to our country, and that is an inconvenient fact for the ISIL narrative."
He also cautioned that "we can't paint with a broad brush" and suspect individuals of terrorism "just because of the way they worship God."
Earnest made a similar claim during an earlier interview Monday on MSNBC's "Morning Joe," describing the fight against the Islamic State as "in some ways just a war of narratives."
(H/T: Weekly Standard)
—
Follow the author of this story on Twitter and Facebook: