The U.S. government erroneously granted citizenship to nearly 1,000 immigrants who had previously been ordered to be deported, according to a report released Monday by the Department of Homeland Security's inspector general.
The report stated that at least 858 immigrants from unspecified "special interest countries" became citizens due to incomplete access to fingerprint records.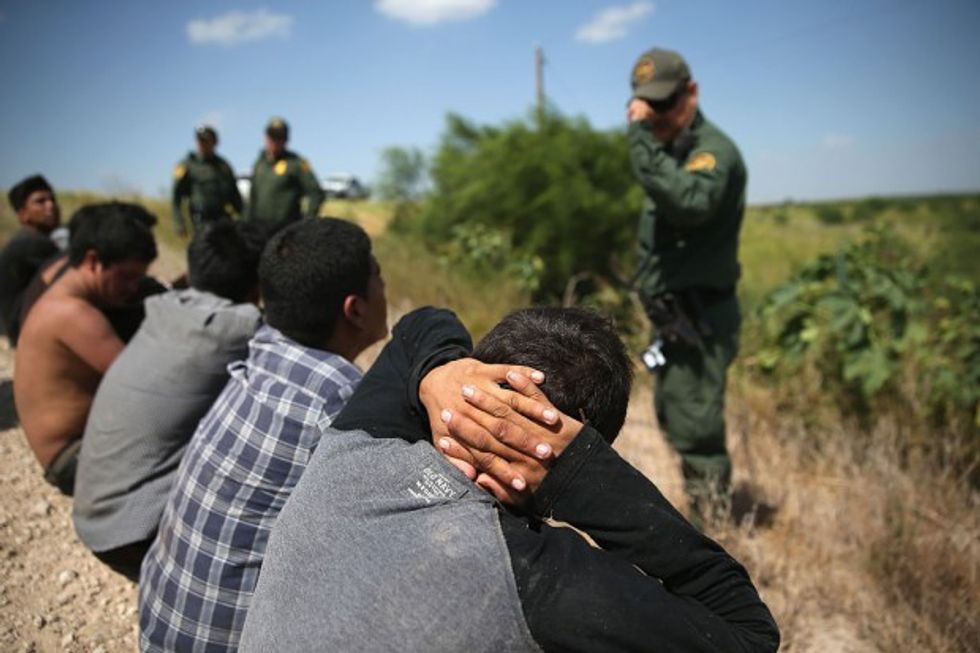 U.S. Border Patrol agents detain undocumented immigrants after they crossed the border from Mexico into the United States on August 7, 2015 in McAllen, Texas. (John Moore/Getty Images)
"This situation created opportunities for individuals to gain the rights and privileges of U.S. citizenship through fraud," Inspector General John Roth said in a statement. "To prevent fraud and ensure thorough review of naturalization applications, USCIS needs access to these fingerprint records. DHS agreed with our recommendations. ICE has plans to digitize and upload all available fingerprint records, and the Department has told us it plans to review the eligibility of each naturalized citizen whose fingerprint records reveal a deportation order under a different identity. We will continue to monitor DHS' progress."
In a statement, Republican presidential nominee Donald Trump linked the report's findings to bombings that took place in New York and New Jersey over the weekend.
"Revelations that the Obama Administration wrongly granted citizenship to over 800 immigrants awaiting deportation from countries of concern to national security or high rates of immigration fraud puts this weekend's attacks in a broader perspective," Trump said. "The safety and security of the homeland must be the overriding objective of our leaders when it comes to our immigration policy."
In a statement, Rep. Diane Black (R-Tenn), a member of the House Border Security Caucus, slammed findings of the report as "a stinging indictment of the Obama administration's abject failure to enforce our immigration laws":
Headlines like this only encourage more acts of illegal immigration because would-be border crossers see the stunning ineptitude of our federal government and will seize upon that opportunity. Secretary Jeh Johnson needs to get his house in order and give taxpayers an explanation for this latest display of government incompetence but, ultimately, the problem stems from the very top of this administration. President Obama has never prioritized border security and enforcement of our existing immigration laws, and now the American people are put at risk because of his own carelessness.
Black added, "It shouldn't be lost on anyone that this audit follows reports from just last week indicating that the Department of Homeland Security may have withheld data from lawmakers showing a drastically different security situation at the US-Mexico border than what DHS portrays."
"The Obama administration must be put on notice that there can be no room for election year politics in matters of homeland security," she continued. "If DHS is acting out of political concerns rather than concern for keeping the American people safe above all else, as these two reports could suggest, that is truly deplorable."
—
Follow the author of this story on Twitter and Facebook: