Former President George H.W. Bush, a veteran Republican, plans to cast his ballot for Democratic presidential nominee Hillary Clinton on Election Day, according to a daughter of the late Robert F. Kennedy.
According to several reports, Kathleen Hartington Kennedy Townsend, a Democrat, posted a photo to her private Facebook account Monday of her shaking hands with the former commander in chief, along with the caption, "The President told me he's voting for Hillary!!"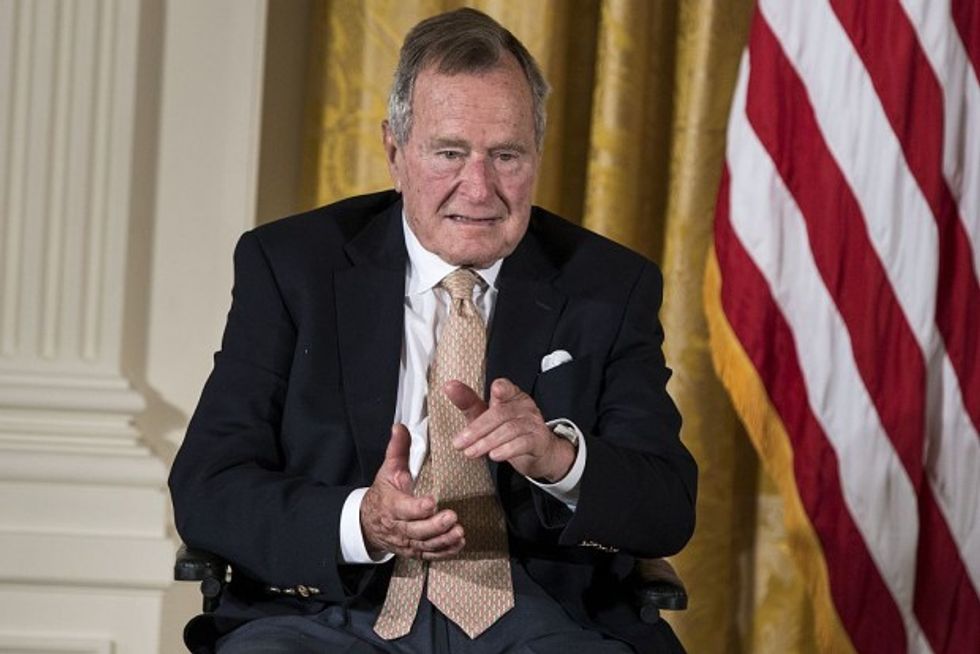 BRENDAN SMIALOWSKI/AFP/Getty Images
Bush, 92, has remained largely silent on the presidential election since Donald Trump became the Republican nominee for president, beating his son, Jeb Bush, and several other competitors in a bruising primary battle.
In a phone interview with Politico, Townsend confirmed the report, telling the outlet she met with the elder Bush in Maine earlier Monday, where she said he revealed his choice for president.
"That's what he said," Townsend, who served as Maryland's lieutenant governor for eight years, told Politico.
However, Team Bush is keeping quiet about the development.
"The vote President Bush will cast as a private citizen in some 50 days will be just that: a private vote cast in some 50 days," Bush spokesman Jim McGrath said in a statement. "He is not commenting on the presidential race in the interim."
The Bushes have made their distaste for Trump no secret, given none of them — from former Presidents George H.W. Bush and George W. Bush to former Florida Gov. Jeb Bush — made an appearance at the Republican National Convention earlier this summer.
Jeb Bush, for his part, has indicated that, though he won't back Trump in November, he will not be voting for Clinton, either.
"In November, I will not vote for Donald Trump or Hillary Clinton, but I will support principled conservatives at the state and federal levels, just as I have done my entire life," he wrote in a Facebook post in May.
—
Follow the author of this story on Twitter: