The U.S. Navy will require all of its sailors to undergo transgender education training by next summer in response to a recent policy change that will allow transgender people to serve in the military.
The training will begin Nov. 1 and is intended to educate all sailors about the new policy as well as emphasize "expectations of personal behavior" in response to the policy change.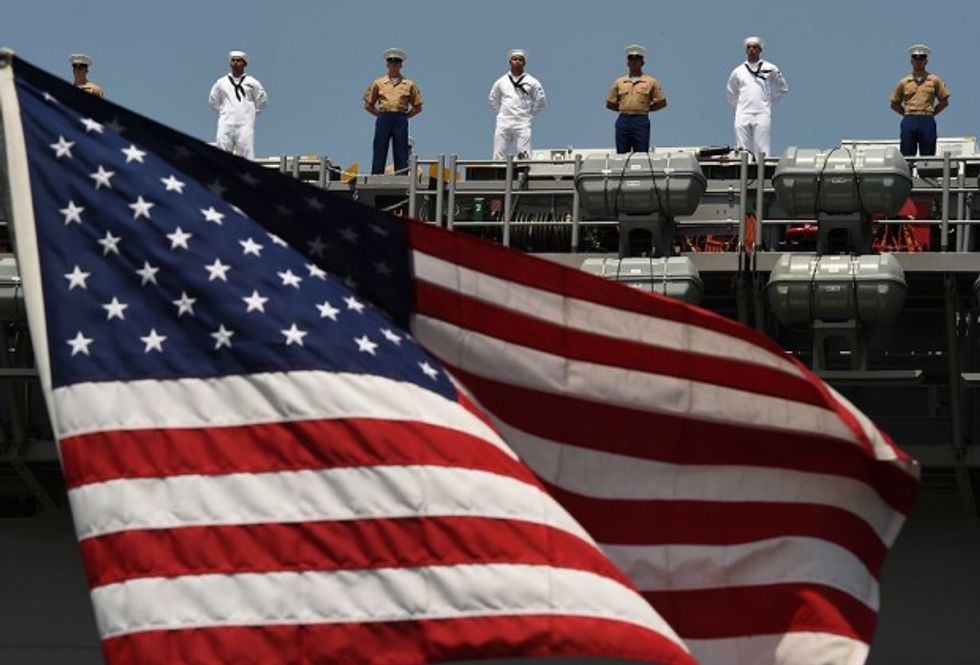 The U.S. flag blows in the wind as Sailors and Marines stand on the deck of the USS Bataan as it arrives into Pier 88 during the "Parade of Ships" ceremony to kick off Fleet Week in New York on May 25. (Getty Images/Timothy A. Clary/AFP)
The Navy plans to dispatch "mobile training teams" to senior leaders to conduct face-to-face meetings on how to appropriately handle the policy change. In addition, a "commander's tool kit" will be distributed to Naval leaders that will further guide all personnel through the education process, Naval Personnel Command spokeswoman Lt. Jessica Anderson told Military.com.
However, the content of the education sessions has not yet been made public.
"Service members are expected to maintain standards of conduct and treat each other with dignity and respect," Anderson said. "Training for sailors will be conducted by command triads via mobile training teams or DVD with a facilitation guide if the unit is in a remote area and unable to receive face-to-face training. There will also be webinars for [commanding officers] to ask questions prior to delivering training to their commands."
All Naval personnel are required to undergo the training by July 1, 2017, which coincides with the day the Navy plans to begin accepting transgender recruits.
The Navy also plans to create procedures on how to handle sailors who want to undergo gender changes, Military.com reports. In addition, a policy already exists that requires all transgender members to use bathrooms that correspond with their "preferred" genders.
The military reversed its policy in June that had barred transgender people serving in the armed forces.
"This is the right thing to do for our people and for the force," Defense Secretary Ash Carter said at the time. "We can't allow barriers unrelated to a person's qualifications prevent us from recruiting and retaining those who can best accomplish the mission."
—
Follow the author of this story on Twitter and Facebook:
[facebook //www.facebook.com/plugins/like.php?href=