One North Carolina high school teacher is facing intense scrutiny after allegedly stopping on an American flag as part of a lesson to his students on free speech.
The incident reportedly took place Monday at Massey Hill Classical High School in Fayetteville and was discovered when a photo purportedly showing the act went viral on social media, according to the Fayetteville Observer.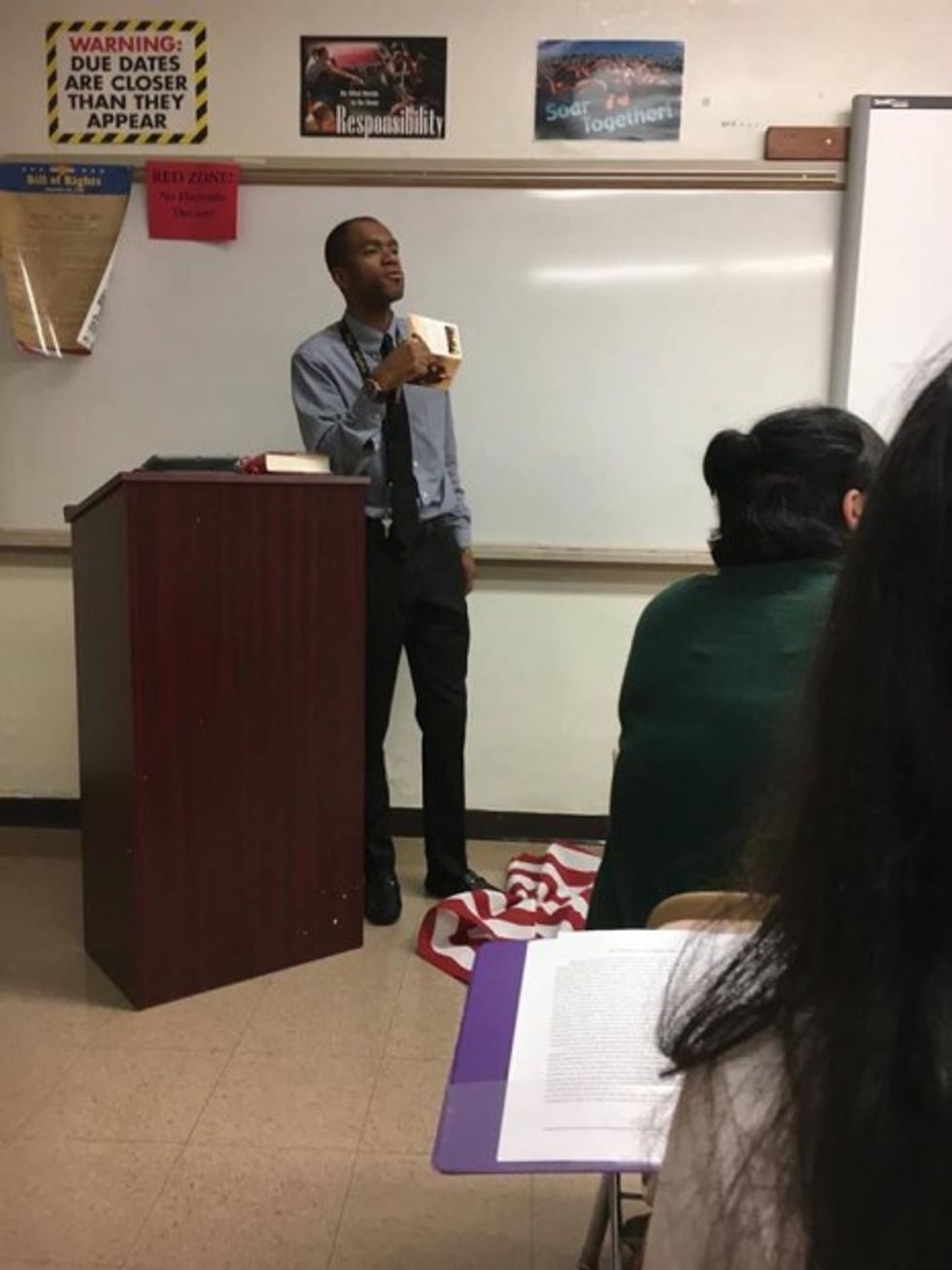 Facebook/Sara Taylor
Sara Taylor, a Facebook user who identified herself as a parent of one of the students in Lee Francis' class, shared the photo and claimed Francis asked students for a lighter and scissors. When no one had the items he requested, the teacher "stomped" on the flag, the mother said.
"That flag might not mean anything to that teacher, but it means a lot to us and it means a lot to the family's [sic] who had their service member come home to them in a casket with that flag draped over it," Taylor captioned the photo, according to the Observer.
As news of the alleged stomping spread, several more parents became frustrated.
"What that teacher did was a gut punch to all the military kids at that school," one parent told Fox News columnist Todd Starnes. "More so to the ones with deployed parents and unforgivably so to Gold Star kids who lost a parent who fought under that flag. It is indefensible."
Cumberland County Superintendent Frank Till Jr., who learned about the ordeal Tuesday morning, told the Observer his office is gathering information about the issue and will be conducting an investigation. He said he does not want to comment on it "until I get it sorted all out."
However, he did suggest there are better ways to explain the rights protected under the First Amendment.
"There are multiple examples of people doing something like that and being protected," Till said. "There are a lot of examples in archives we could use that were appropriate."
Francis, for his part, took to Facebook to defend his controversial actions, the Observer reported. The teacher said he was talking to students about Texas v. Johnson, a case that determined desecration of the flag is protected by the First Amendment.
However, one North Carolina law, General Statute 14-381, states it is illegal "to cast contempt upon any flag of the United States or upon any flag of North Carolina by public acts of physical contact including, but not limited to, mutilation, defiling, defacing or trampling."
Violating the ordinance is a Class 2 misdemeanor offense.
Francis said his decision to stomp on the American symbol was not an issue at the time he did it. "The rest of the class understood," he wrote. "I don't even teach the student of this Sara Taylor person."
—
Follow the author of this story on Twitter: