Republican presidential nominee Donald Trump might have violated laws against "self-dealing" by allegedly using $258,000 of his own charity's money to settle legal fees stemming from lawsuits from his for-profit businesses, according to the Washington Post.
Newly documented expenditures obtained by the Post appeared to show the Manhattan billionaire's use of money from his charitable donations to settle the lawsuits. In doing so, it's possible Trump violated laws against "self-dealing," which prevent leaders of nonprofits to use charity money for their own use or their businesses' use.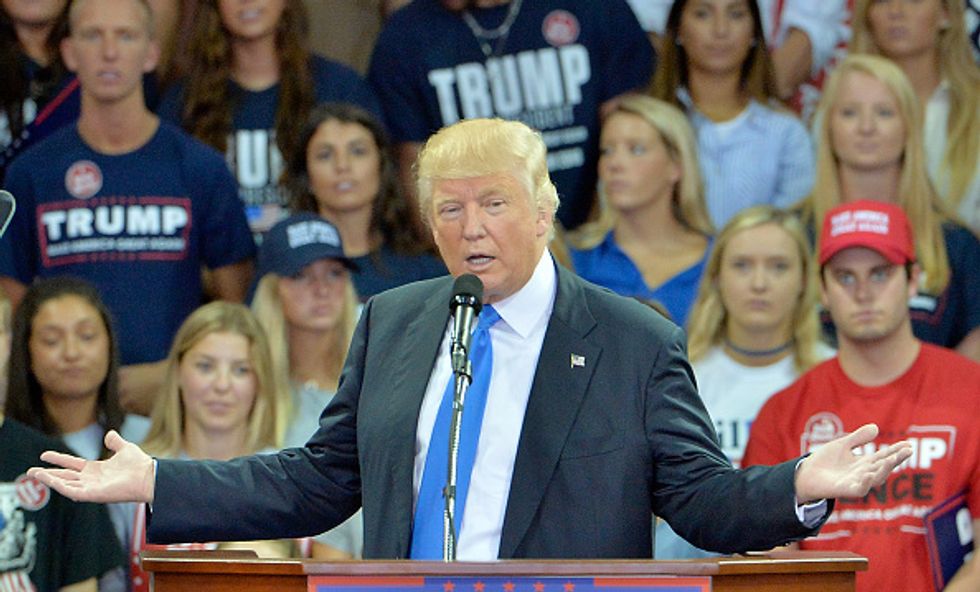 Republican presidential nominee Donald Trump speaks during a campaign event at High Point University in North Carolina on Tuesday. (Getty ImagesSara D. Davis)
According to the Post, one of Trump's New York golf courses settled a lawsuit with a donation to a charity chosen by the plaintiff. The $158,000 donation was then made by Trump's charity, the Trump Foundation.
Tax records also revealed that the foundation paid $5,000 to buy advertising for Trump's hotel chains in a series of events. Another $10,000 of his charity's money was used to fund a portrait of himself bought at a charity event, the Post reported.
Jeffrey Tenenbaum, a leading nonprofit attorney who represents approximately 700 nonprofits a year, told the newspaper that he has "never encountered anything so brazen." He also described the use of his foundation's money as "really shocking."
"If he's using other people's money — run through his foundation — to satisfy his personal obligations, then that's about as blatant an example of self-dealing [as] I've seen in a while," he said.