Boxing promoter Don King used a racial slur while campaigning for Republican presidential nominee Donald Trump Wednesday in a church.
King, who is black, argued that "America needs Donald Trump."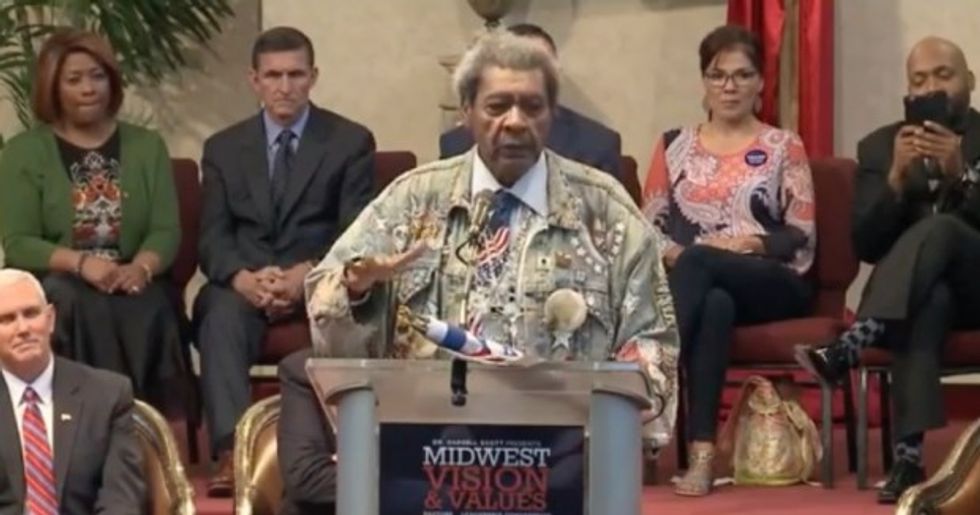 Don King (Image source: YouTube)
"We need Donald Trump, especially black people," King said. "Because you have to understand, brothers and sisters — they tried to tell me you have to emulate and imitate the white man and then you can be successful. So we tried that."
King continued, "I told Michael Jackson — I said, if you poor, you are a poor negro."
"I would use the N-word. But if you rich, you are a rich negro. If you are intelligent, intellectual, you are an intellectual negro. If you are dancing and sliding and gliding n*****," he said, laughing as he continued, "I mean, I mean, negro. You are dancing and sliding and gliding negro."
"So dare not alienate because you cannot assimilate. So you know, you going to be a negro 'til you die," he added.
Trump could be seen smiling behind King as he spoke.
Don King was convicted of murder and pardoned. Don King was banned from the RNC by Reince Priebus. Don King is at a Trump event. https://t.co/123E1LdmWF

— Kyle Griffin (@kylegriffin1) September 21, 2016
Trump campaigning w/ Don King, who just used the n-word at their event.

King also a controversial surrogate b/c he was convicted of murder.

— Ari Melber MSNBC (@AriMelber) September 21, 2016
Don King just said "negro" several times, then dropped another n-word. Donald Trump sat behind him smiling.

— Matt Viser (@mviser) September 21, 2016
Don King just said the n-word while introducing Trump, who sat behind him smiling.

— Ali Vitali (@alivitali) September 21, 2016
Trump surrogate. With the N-word. In a church. Trying to woo African-American voters. https://t.co/OKYfmqfrlW

— Ashley Parker (@AshleyRParker) September 21, 2016
Watch (Content warning: This video contains racial language some readers might find offensive):
—
Follow the author of this story on Twitter and Facebook: