The House Select Panel on Infant Lives voted Wednesday to hold fetal-tissue-procurement company StemExpress — a former Planned Parenthood business partner — and its CEO Cate Dyer in contempt of Congress.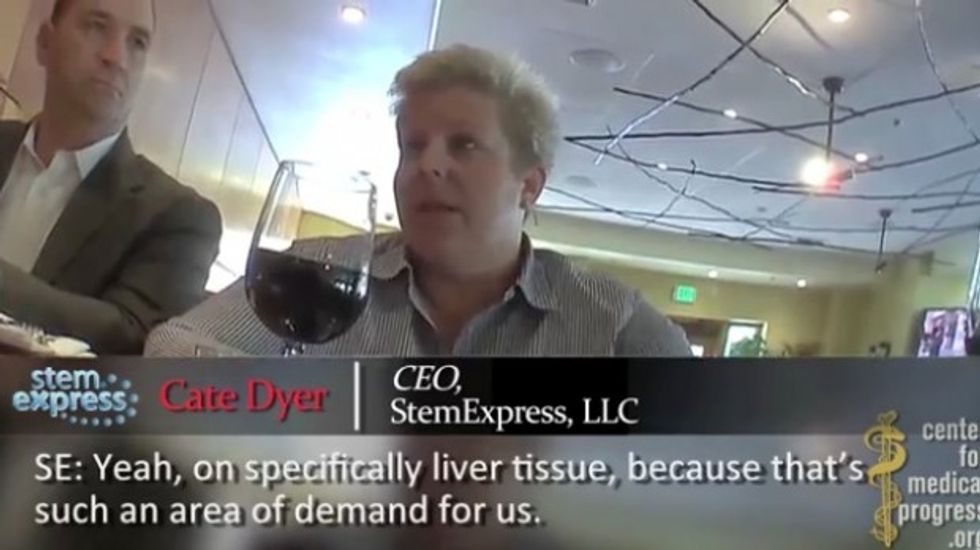 Image source: YouTube/Center for Medical Progress
Lawmakers on the panel's Republican majority said that StemExpress failed to fully comply with a Congressional subpoena.
After multiple failed attempts to adjourn the hearing to delay or cancel the vote, Democrats on the panel staged a walk-out.
Democrats walking out of Select Panel on Infant Lives markup in protest pic.twitter.com/TX6q23qOYO

— Lauretta Brown (@LaurettaBrown6) September 21, 2016
The panel's probe of the financial nature of the relationship between StemExpress and Planned Parenthood follows the release of undercover videos by the Center for Medical Progress depicting senior executives at StemExpress and Planned Parenthood describing the sale of aborted fetal body parts.
Republicans on the panel have argued that the Center for Medical Progress' videos raised serious legal questions about Planned Parenthood's conduct. Democrats on the panel have likened the investigation to a "witch hunt" against Planned Parenthood and dismissed the videos as "heavily edited."
In June, Rep. Marsha Blackburn (R-Tenn.), chairman of the House Select Panel on Infant Lives, alleged that StemExpress may have broken federal law by reviewing the private medical records of patients, which would violate the Health Insurance Portability and Accountability Act of 1996.
At the hearing, Blackburn noted that "a subpoena is not a suggestion," and the information sought by the panel is necessary to determine if illegal conduct took place.
"Sell human fetal tissue for a profit, you break the law," Blackburn said. "Donate fetal tissue with zero profit, you are within the law."
Prior to her departure, the panel's ranking member Rep. Jan Schakowsky (D-Ill.) said that that the hearing was a "dangerous" attack on "life-saving research."
Schakowsky claimed that the panel "does not need" the documents in question and any "failure" to obtain facts lies with Blackburn and not StemExpress.
"We refuse to sanction or endorse this exercise by continuing to participate," Schakowsky said before walking out of the meeting with her fellow Democrats.
A spokesperson for the panel's minority did not immediately respond to TheBlaze's request for comment.
In a Tuesday statement, a spokesperson for StemExpress said the company "offered to testify before the Select Panel, but this offer was ignored":
Several House and Senate Committees have reviewed our accounting records and closed their investigations. We have provided hundreds of documents to the Select Panel, including accounting records, both voluntarily and in response to subpoenas. All Americans should be concerned that a Congressional panel can use the threat of contempt proceedings to support a narrative that flies in the face of the facts.
Blackburn wrote on Facebook that StemExpress did not provide the documents the panel requested.
In a statement to TheBlaze, David Daleiden, the founder of Center for Medical Progress, said, "The House Energy & Commerce Committee's Select Investigative Panel has already discovered probable cause that Planned Parenthood and StemExpress profited off of baby body parts together, used fraudulent and invalid consent forms to pressure patients to agree to body parts harvesting, and violated the HIPAA privacy rights of tens of thousands of pregnant women."
"Planned Parenthood's political cronies on the Panel minority, whom Planned Parenthood funds with tens of thousands of dollars in campaign contributions, made clear today how terrified they and their abortion industry masters are of the full details being revealed about Planned Parenthood's criminal partnership with StemExpress," he added. "They walked out of the hearing today because they can't handle the truth about Planned Parenthood and StemExpress' for-profit business partnership in baby body parts."
Last year, StemExpress told the panel that it had ended its relationship with Planned Parenthood.
—
Follow the author of this story on Twitter and Facebook: