WASHINGTON (AP) — A Republican-led House committee voted on Thursday to hold in contempt of Congress a former State Department employee who helped set up Democratic presidential nominee Hillary Clinton's private email server. The employee's lawyer accused the panel of a "naked political agenda."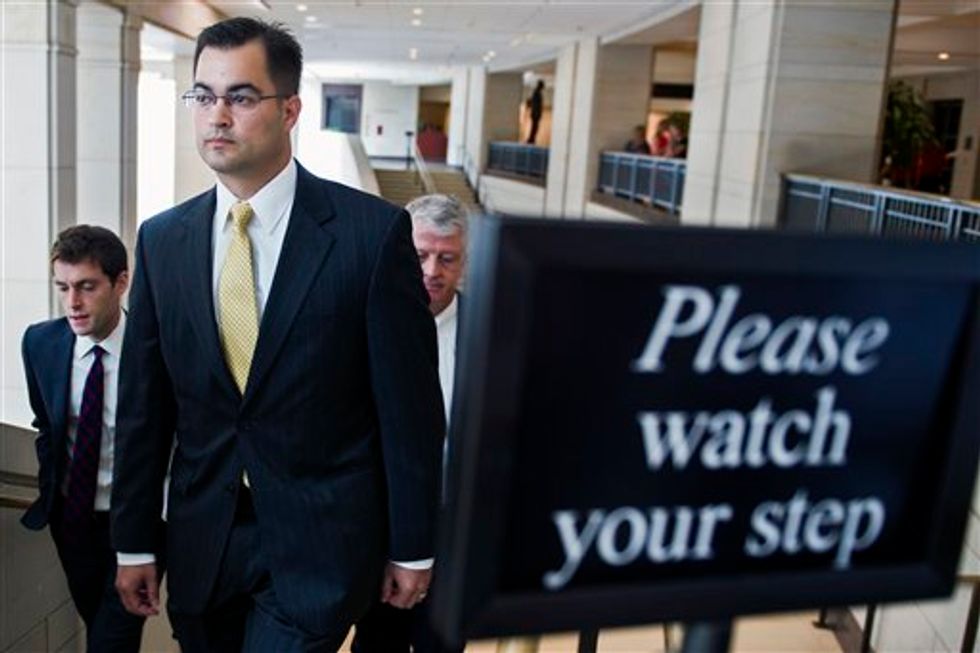 Bryan Pagliano, a former State Department employee who helped set up and maintain a private email server used by Hillary Rodham Clinton, departs Capitol Hill in Washington, Thursday, Sept. 10, 2015, to give his deposition to a House panel on the Benghazi investigation. Pagliano will assert his constitutional right not to testify before any congressional committees, his lawyer says. (AP Photo/Cliff Owen)
The House Oversight and Government Reform Committee approved the contempt resolution on a 19-15 party-line vote. The resolution states that Bryan Pagliano, the computer specialist tasked with establishing Clinton's server while she was secretary of state, did not comply with two subpoenas ordering him to appear before the panel.
Rep. Elijah Cummings of Maryland, the panel's senior Democrat, bemoaned the spectacle, calling it "a blatantly partisan Republican attack on the Democratic candidate for president."
Cummings and other Democrats also complained that armed U.S. marshals issued a subpoena to Pagliano at his office — an action Cummings said "served no purpose but to harass and intimidate" Pagliano.
But committee Chairman Jason Chaffetz of Utah said the contempt resolution was forced by Pagliano's refusal to comply with the subpoenas.
"This committee cannot operate - it cannot perform its duty, nor can any committee of Congress - if its subpoenas are ignored," Chaffetz said.
Pagliano also refused to answer questions last year before a House panel investigating the deadly 2012 attacks in Benghazi, Libya.
He later spoke to the FBI under immunity, telling the bureau there were no successful security breaches of the home-brew server, located at Clinton's home in suburban New York City.
Pagliano said he was aware of many failed login attempts that he described as "brute force attacks."
The email issue has shadowed Clinton's candidacy for president, and Republicans have been steadfast in focusing on her use of a private server for government business, with several high-profile hearings leading up to the election. Chaffetz and other Republicans have cast Clinton as reckless with U.S. national security by insisting on using private communications systems at potentially greater risk of being penetrated by Chinese and Russian hackers.
But Democrats insist the sole purpose of the hearings is to undermine Clinton's presidential bid.
The GOP's actions are "an embarrassment" and "beneath the dignity of this committee," said Rep. Stephen Lynch, D-Mass.
Pagliano's attorneys said in a letter to the committee that the subpoenas revealed "a naked political agenda" to embarrass Pagliano by forcing him to assert his constitutional rights before the cameras just weeks before the presidential election.
FBI Director James Comey has defended the decision to forgo criminal charges against Clinton after a yearlong probe into whether she mishandled classified information that flowed through the private email system. Comey told bureau employees in an internal memo that it wasn't a close call.
—