After appearing on NBC's "Tonight Show With Jimmy Fallon" Monday, Hillary Clinton's push to win millennial voters continued as the candidate put herself in the hot seat for the latest episode of the popular comedy web series, "Between Two Ferns With Zack Galifianakis."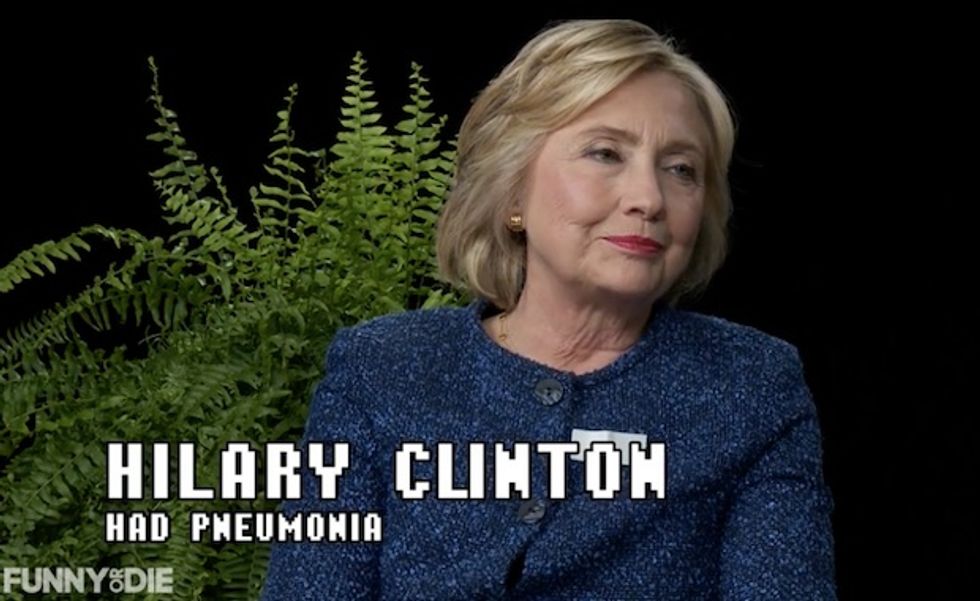 Hillary Clinton on "Between Two Ferns" (Image source: Funny or Die)
The comedy series, a mock interview show hosted by comic actor Galifianakis, was also used by President Barack Obama in 2014 to push for millennials to enroll in Obamacare.
A few of the questions from Galifianakis in the intentionally uncomfortable, low-budget interview:
● Are you excited to be the first girl president?

● As secretary, how many words per minute do you type?

● What happens if you become pregnant? Are we going to be stuck with Tim Kaine for nine months?

● (Speaking about Trump) When he's elected president and Kid Rock becomes secretary of state, are you going to move to Canada?
The red "reset" button placed on the small table between Clinton and Galifianakis also plays a role when the host interrupts Clinton saying, "We need to have a word from our sponsor," and presses the button to trigger a commercial from Donald Trump.
(Content warning -- the video contains strong language.)
—
Follow the author of this story on Twitter and Facebook: