The latest sexting allegations against Anthony Weiner have led the FBI and the New York Police Department to open investigations into the embattled former congressman, according to a Thursday report.
Law enforcement officials told CNN that prosecutors in U.S. Attorney Preet Bharara's office have issued a subpoena for Weiner's cell phone and other records after he was accused of engaging in sexual correspondence with a 15-year-old girl. In addition to the federal agency, the NYPD has also launched a preliminary investigation into Weiner's supposed activity.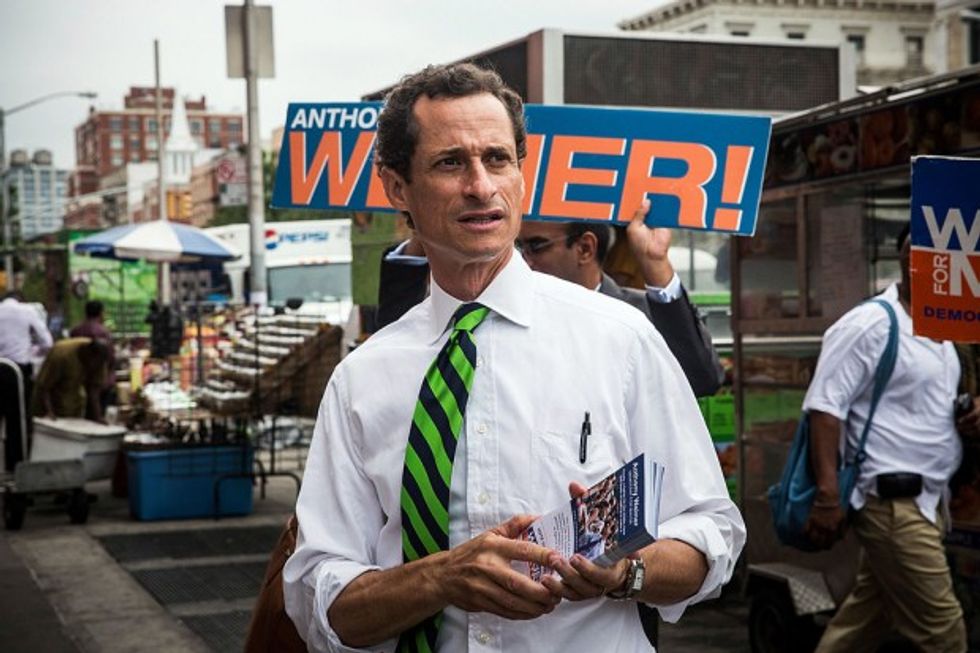 Andrew Burton/Getty Images
The most recent sexting allegations where first presented by the Daily Mail, which reported that Weiner engaged in explicit communication with a minor, whose name has not been disclosed, around January and continued his talks with her until July.
In their communications, it was reported Weiner asked the young girl to undress via Skype and also sent her inappropriate and pornographic images and videos. The Daily Mail also reported the two would discuss his "rape fantasy" while roleplaying as a teacher and a school girl.
According to the report, the 15 year old reached out to Weiner in January over Twitter. However, Weiner, for his part, has neither confirmed nor denied the alleged conversations.
"I have repeatedly demonstrated terrible judgment about the people I have communicated with online and the things I have sent," he said in a statement. "I am filled with regret and heartbroken for those I have hurt."
In an additional comment to CNN, Weiner said this: "While I have provided the Daily Mail with information showing that I have likely been the subject of a hoax, I have no one to blame but me for putting myself in this position. I am sorry."
As a result of his multiple inappropriate internet relationships, Weiner's wife, Huma Abedin, announced last month she is separating from him.
—
Follow the author of this story on Twitter: