A pair of teenage sisters told police that they were victims of a racially charged attack Friday as they walked through a Black Lives Matter protest in Stockton, California, according to KOVR-TV.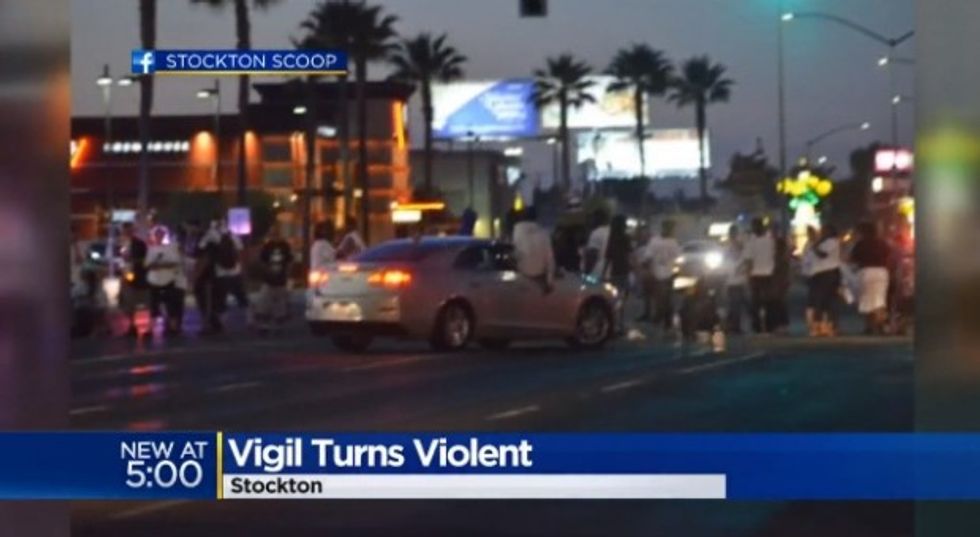 Black Lives Matter protest in Stockton, California (Image source: KOVR-TV)
Police said the two females suffered non-life-threatening injuries and told officers that they believed they were attacked because they are white.
According to KOVR, protesters gathered to hold a vigil for Colby Friday, an black man "who was shot and killed by Stockton police in August after he ignored an officer's commands to drop his handgun."
The two girls were reportedly assaulted by some of the protesters as they left a local restaurant and passed by the gathering.
"Our understanding is that it involved several out-of-towners whose intent was more than protesting," Ron Freitas, assistant district attorney for San Joaquin County, told KOVR.
KOVR reported that there is no formal Black Lives Matter group in Stockton and that officials with the Sacramento chapter told them no one from the actual BLM organization was involved with the Stockton protest or the attack.
Stockton police are searching for the suspects.
—
Follow the author of this story on Twitter and Facebook: