Conservative USA Today columnist Glenn Reynolds, a law professor known on Twitter as "Instapundit," has been suspended by the newspaper for a month over a controversial tweet he published about the Charlotte rioters Wednesday night.
Reynolds suggested North Carolina drivers being blocked and surrounded by angry protesters on the street should "run them down." The tweet got the Twitter user temporarily suspended by the social media network, which ultimately reinstated his account after he deleted the post.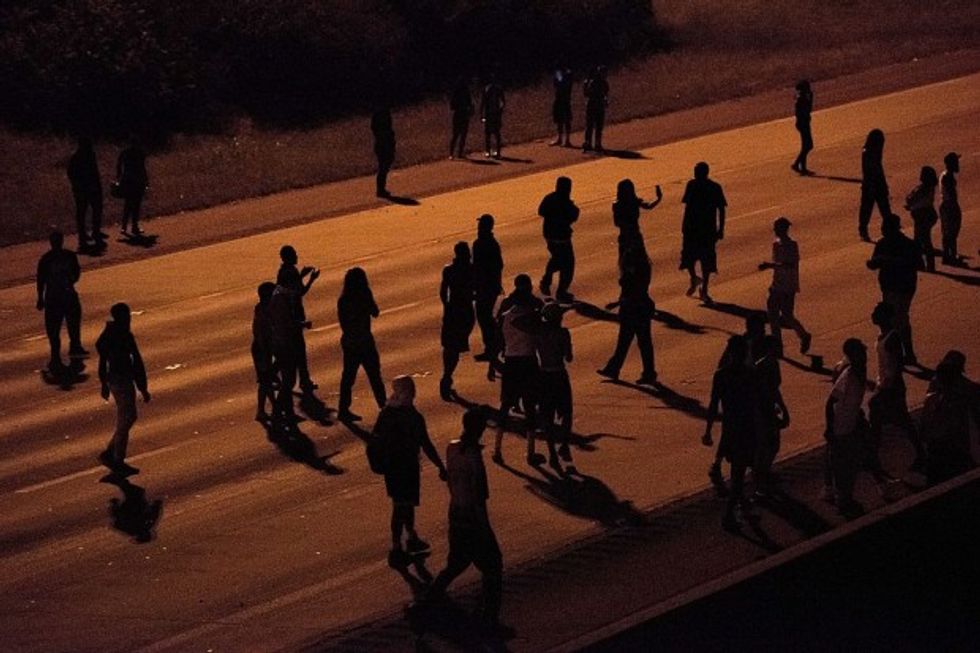 Protestors block traffic on the I-85 (Interstate 85) during protests Sept. 20, 2016 in Charlotte, N.C. (Sean Rayford/Getty Images)
But it wasn't just Twitter upset by the comment. According to Politico, USA Today editorial page editor Bill Sternberg also took issue with the tweet, which he said "can be interpreted as an incitement to violence."
Here is Sternberg's full statement:
USA TODAY expects its columnists to provide thoughtful, reasoned contributions to the national conversation, on all platforms. Glenn Reynolds' 'Run them down' tweet, in response to a news report about protesters in Charlotte stopping traffic and surrounding vehicles, was a violation of that standard and can be interpreted as an incitement to violence. Reynolds, a law professor at the University of Tennessee who writes twice a week for USA TODAY, has apologized. His column has been suspended for one month.
In a statement on USA Today's website, Reynolds expressed regret for his controversial post, writing that he did not live up to his own personal "standards" or those of USA Today with the tweet.
"What I meant is that drivers who feel their lives are in danger from a violent mob should not stop their vehicles," he wrote. "[M]y tweet should have said, 'Keep driving,' or 'Don't stop.'"
He went on to admit that he understands why his comment may have been misunderstood by some readers, adding that he has "always supported peaceful protests, speaking out against police militarization and excessive police violence" in his columns over the years.
However, on his own blog, Reynolds, a frequent Twitter user, expressed frustration over the platform's decision to temporarily suspend his account.
"Can't imagine why they'd do that, except that it seems to be happening to a lot of people for no obvious reason," he wrote. "It's as if, despite assurances to the contrary, Twitter is out to silence voices it disagrees with or something."
–
Follow the author of this story on Twitter: