For Sen. Ted Cruz (Texas), the decision to endorse Republican nominee Donald Trump wasn't an easy one.
Although for the former Republican presidential nominee's supporters the decision seemed to be sudden and rash, Cruz told KTRK-TV Friday that the decision to support Trump didn't come as a result of a political deal, but rather it came after several months of thought and prayer.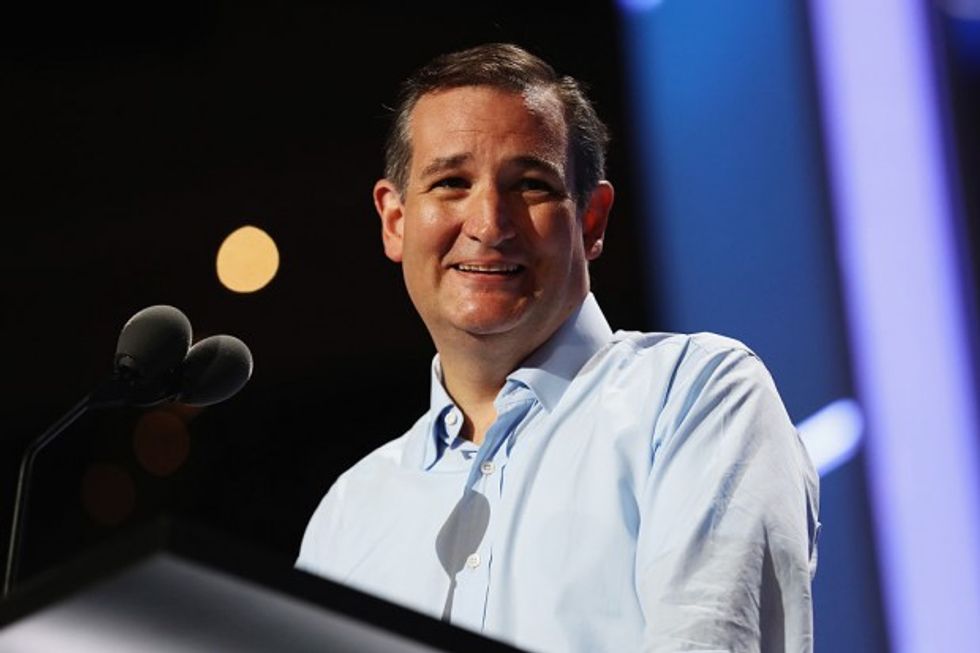 stands on stage before the opening of the third day of the Republican National Convention on July 20. (Getty Images/John Moore)
"There were no deals," Cruz told the news station. "We had been engaged in conversations. You know it's been a decision as I said I've been thinking about and praying about for weeks and months, discussing it with my family, and I made the decision today and announced it Friday."
Following his non-endorsement of Trump during the Republican national convention in July, Cruz took a lot of heat from Republicans and supporters alike. At the time, Cruz instructed Republicans to "vote their conscience," a phrase that drew a large number of "boos" during his speech.
During an interview with the Texas Tribune Friday, Cruz invoked the phrase again, this time in-favor of Trump.
"I don't believe I could in good conscience look my kids in the eyes and say I sat by [and let Clinton win]," Cruz told the newspaper.
Many political pundits on the same side of politics and culture as Cruz have said they're abstaining from voting for Trump due to conflicts in value and principle, among other reasons.
But Cruz explained in a lengthly Facebook post Friday that his decision to support Trump could be narrowed down to a few key issues, namely Supreme Court nominations, six policy differences between Trump and Democratic nominee Hillary Clinton, his pledge to support the Republican nominee and the fact that "Hillary Clinton is manifestly unfit to be president, and her policies would harm millions of Americans [and] Donald Trump is the only thing standing in her way."
Still, many of Cruz's supporters couldn't understand why he decided to support Trump after the multiple personal attacks Trump launched at Cruz and his family during the primary.
But, Cruz told KTRK that he and his family have moved past the attacks and forgiven Trump.
"Listen, [in] politics, there's always criticism. If no one is throwing rocks at you, you're not doing much of anything," Cruz said. "I've discussed it with both Heidi and my dad. I love my wife. I love my dad. Both of them have forgiven Donald. I have forgiven him."
"This is not personal. This is not about our family," he added. "It's about the country."
Watch Cruz's interview with KTRK below:
—
Follow the author of this story on Twitter and Facebook:
[facebook //www.facebook.com/plugins/like.php?href=