NBC host Chuck Todd said on "Meet the Press" Sunday that instead of inviting Gennifer Flowers to the presidential debate Monday night, Republican nominee Donald Trump should have invited one of the "grieving Benghazi family members" in order to score political points.
The comment came amid a discussion with Stephanie Cutter, the former deputy campaign manager for President Barack Obama, and Steve Schmidt, a senior adviser to Sen. John McCain (R-Ariz.) during his 2008 presidential campaign.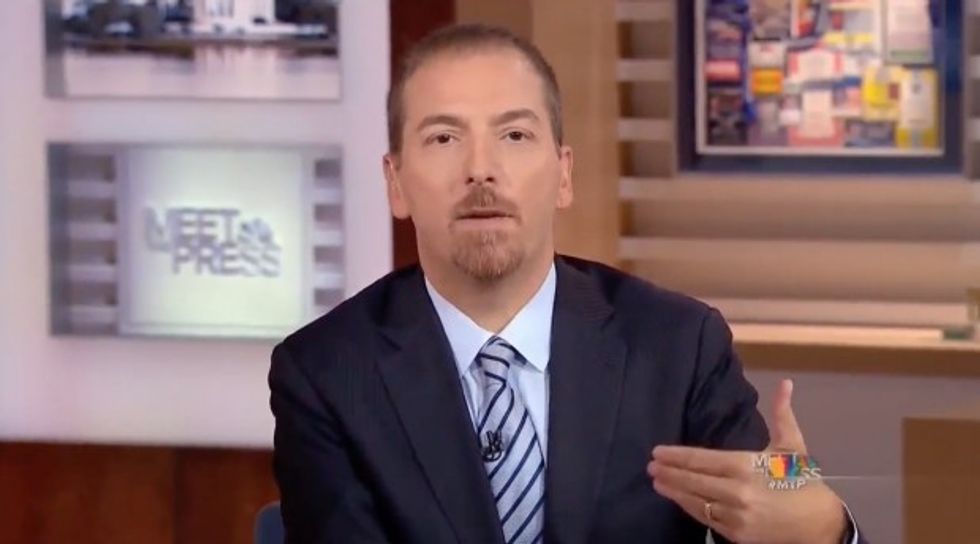 Image source: YouTube
Cutter told Todd she remembered that during a presidential debate in 2004, as a member John Kerry's campaign staff, she invited several 9/11 widows to the debate to "make the point that we had a lot of work to do to get back on track in Afghanistan and Iraq took us of course."
"What Clinton and Trump are doing is trying to throw each other off their game," Cutter added. "The difference is Clinton is doing it with a legitimate businessman—also a celebrity—and as John Podesta put it earlier on your show, Trump is just jumping right down in the sewer and swimming in it by inviting Gennifer Flowers."
Trump made headlines on Saturday after he tweeted that he would invite Flowers to be a guest of his campaign's during the debate. Flowers gained notoriety during the early 90's after she revealed during former President Bill Clinton's first presidential campaign that she and Clinton had a long sexual history.
If dopey Mark Cuban of failed Benefactor fame wants to sit in the front row, perhaps I will put Gennifer Flowers right alongside of him!

— Donald J. Trump (@realDonaldTrump) September 24, 2016
The invitation was extended after Democratic nominee Hillary Clinton invited billionaire businessman Mark Cuban to the debate. Cuban has been very outspoken against Trump during the election and has pledged his support to Clinton.
Flowers later on Saturday tweeted that she accepted Trump's invitation and would attend the debate as his guest. However, Trump campaign manager Kelly Conway said on Sunday that the campaign did not actually extend Flowers a formal invitation.
Still, Todd said he didn't think Flowers was the best guest option for Trump.
"It would have made more sense to me had Trump responded with bringing a grieving mother of one of the grieving Benghazi family members," Todd said on his show. "That seems to be the counter that would have made policy sense."
Schmidt, in response, said that the tactics employed by the Clinton campaign were "clearly effective."
"[The invitation to Cuban] was clearly designed to provoke Donald Trump and it provoked Donald Trump," Schmidt said, "and it provoked Donald Trump into going down the Gennifer Flowers rabbit hole."
Watch the conversation below:
(H/T: Mediaite)
—
Follow the author of this story on Twitter and Facebook:
[facebook //www.facebook.com/plugins/like.php?href=