A North Carolina civil rights museum declined a request for a visit from Republican presidential nominee Donald Trump after it said his campaign made too many demands, according to WFMY-TV.
Earl Jones, co-founder of the International Civil Rights Center and Museum in Greensboro, told WFMY that the Trump campaign tried to schedule a visit to the museum for same day Trump was to speak at nearby High Point University.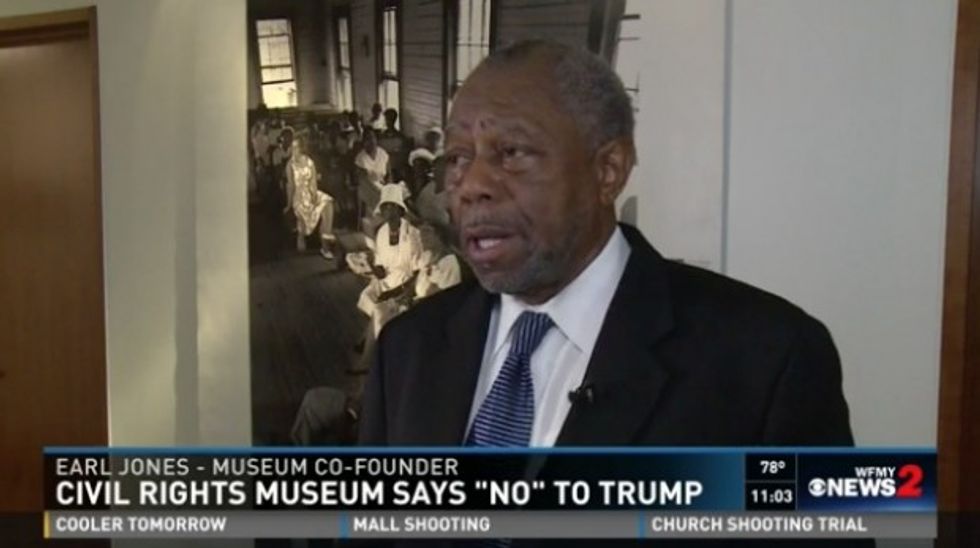 Earl Jones (Image source: WFMY-TV)
"We did not honor the request of the Donald Trump team because we thought they demonstrated, in their approach was disrespectful, so therefore we did not grant that request," Jones said.
He added that the campaign was "aggressive and rude" to museum staff, demanding the museum close for at least five hours in order to accommodate the Manhattan billionaire, and that he believed the request was insincere:
The approach, the type of disrespect, pretty much a demand and bullying us to use the museum in their manner and their way in their time, it was inappropriate and I think it's probably reflective of the type of insensitivity of civil rights and human rights that's reflective from Trump over the years.
WFMY asked Jones if he would have denied a similar request from Democratic presidential nominee Hillary Clinton, he said yes, arguing that neither candidate is entitled to "special treatment."
"We have equal treatment for everyone coming to the museum, and we welcome everyone to the museum," Jones said. "But we are not going to allow the museum to be used for political gain."
A spokesperson for the Trump campaign did not immediately respond to TheBlaze's request for comment.
Watch below:
—
Follow the author of this story on Twitter and Facebook: