TOWNVILLE, S.C. (TheBlaze/AP) — A law enforcement officer says two students and a teacher were wounded and flown to hospitals after a shooting at a South Carolina elementary school.
An Anderson County police official told TheBlaze Wednesday that all other students and teachers at Townville Elementary School were safe following the shooting earlier this afternoon. Evacuated children and their parents were routed to a nearby church.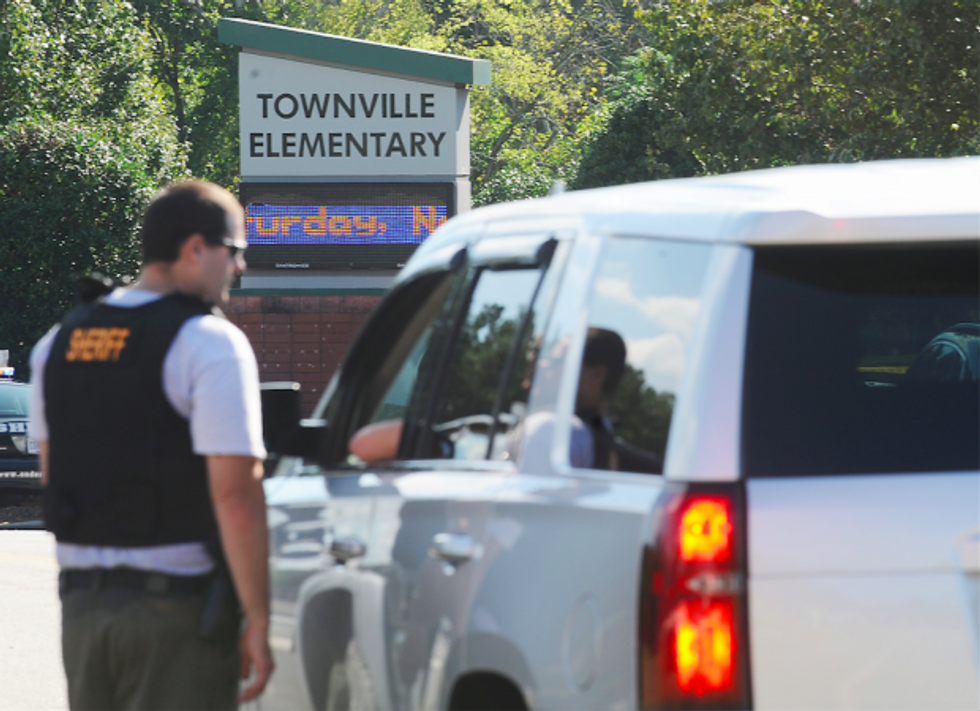 Members of law enforcement talk in front of Townville Elementary School on Wednesday, Sept. 28, 2016, in Townville, S.C. A teenager opened fire at the South Carolina elementary school Wednesday, wounding two students and a teacher before the suspect was taken into custody, authorities said. (AP Photo/Rainier Ehrhardt)
The shooter, who has only been identified as a 14-year-old Caucasian male as of late Wednesday afternoon, is in police custody. The suspect is homeschooled, according to police.
One student was airlifted to Greenville Memorial Hospital where he remained in surgery as of late Wednesday afternoon, according to an official with Anderson County Emergency Management.
The other student and a female teacher were transported to AnMed, police officials told TheBlaze.  That student was discharged from the hospital already.
One student was shot in the leg while the other student was shot in the foot, according to the Anderson County Police Department. The teacher was shot in the shoulder.
"All victims and the suspect are white, there are no racial overtones associated with the incident," the police department said in a statement. "The incident is not related to any type of terrorism threat."
In a news conference Wednesday evening, Superintendent Joanne Avery said the suspect was apprehended shortly after officials received initial calls of an armed man on school grounds.
Officials responded to the school within seven minutes, Avery said.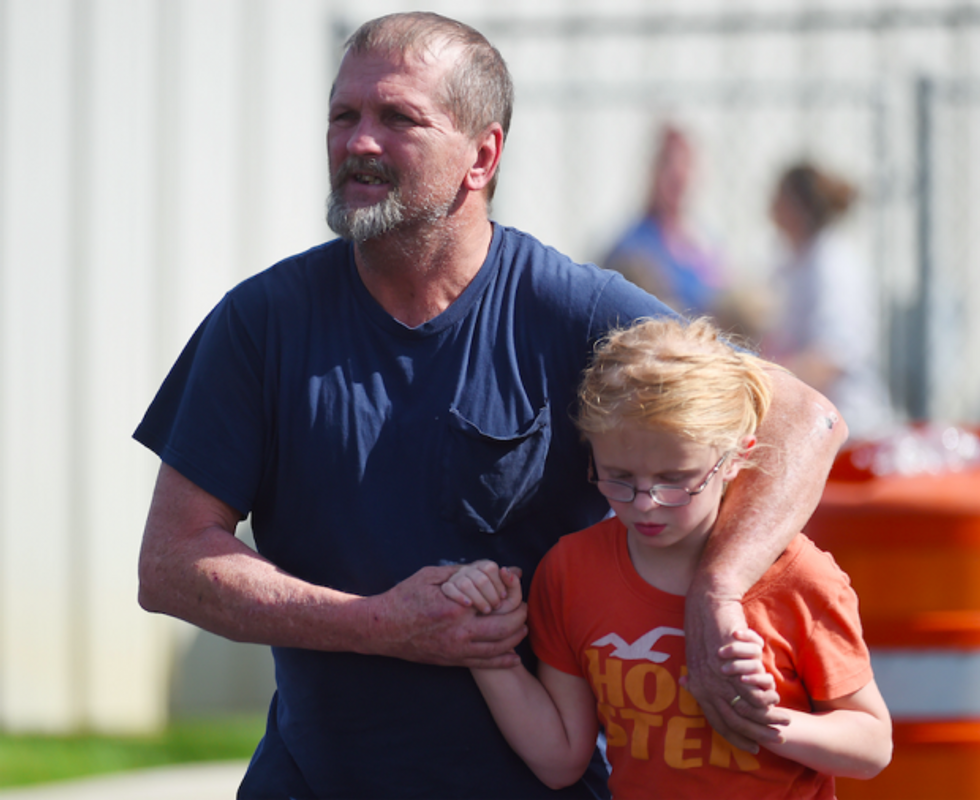 Joey Taylor walks with his daughter Josie Taylor after picking her up at Oakdale Baptist Church in Townville, S.C. Students were evacuated to the church following a shooting at Townville Elementary School. (AP Photo/Rainier Ehrhardt)
Anderson County Coroner's Office is investigating the death of a man found at a home a little more than three miles from the elementary school. Officials believe his death to have a connection with the shooting at the school, a representative of the office confirmed to TheBlaze.
A police official told TheBlaze that the deceased man, Jeffrey D. Osborne, is believed to have been the father of the shooter.
A relation between the shooter and the victims at the elementary school is not yet known, late enforcement officials said.
Anderson County Sheriff's Office Capt. Garland Major said Wednesday evening that a handgun was used in the shootings.
The suspect was initially apprehended by 30-year-old Jamie Brock, a Townville Volunteer firefighter.
South Carolina Gov. Nikki Haley (R), who is expected to travel to Upstate later Wednesday, said in a statement:
As we work together with law enforcement to make sure they have the support they need to investigate what happened in Townville, Michael and I ask that everyone across South Carolina join us in praying for the entire Townville Elementary School family and those touched by today's tragedy.
Townville Elementary School is located near the Georgia state line. It is expected to be closed for the rest of the week.
Greenville County Schools superintendent Burke Royster said in a statement:
Our thoughts and prayers go out to the students, teachers, administrators, and families of Townville Elementary School and Anderson School District 4.We have offered the assistance of members of our emergency response team and other personnel, who are currently providing needed support to this community.
According to a release from the police department, schools within the Anderson County School District work with law enforcement and receive active assailant training.
This is a breaking news story. Updates will be added.
TheBlaze's Jon Street contributed to this report. 
—
Follow Kaitlyn Schallhorn (@K_Schallhorn) on Twitter