HOBOKEN, N.J. (TheBlaze/AP) — A crowded commuter train plowed into the bustling Hoboken station during the morning rush hour Thursday, killing at least one person and injuring more than 100 others, some critically, in a tangle of broken concrete, twisted metal and dangling cables, authorities said.
New Jersey Gov. Chris Christie (R) said Thursday afternoon during a press conference that there are at least 108 injured in the train crash. There is also one fatality.
The woman was on the train's platform when she was killed.
Christie said the train came into the station at a "high rate speed" when it crashed into the barriers.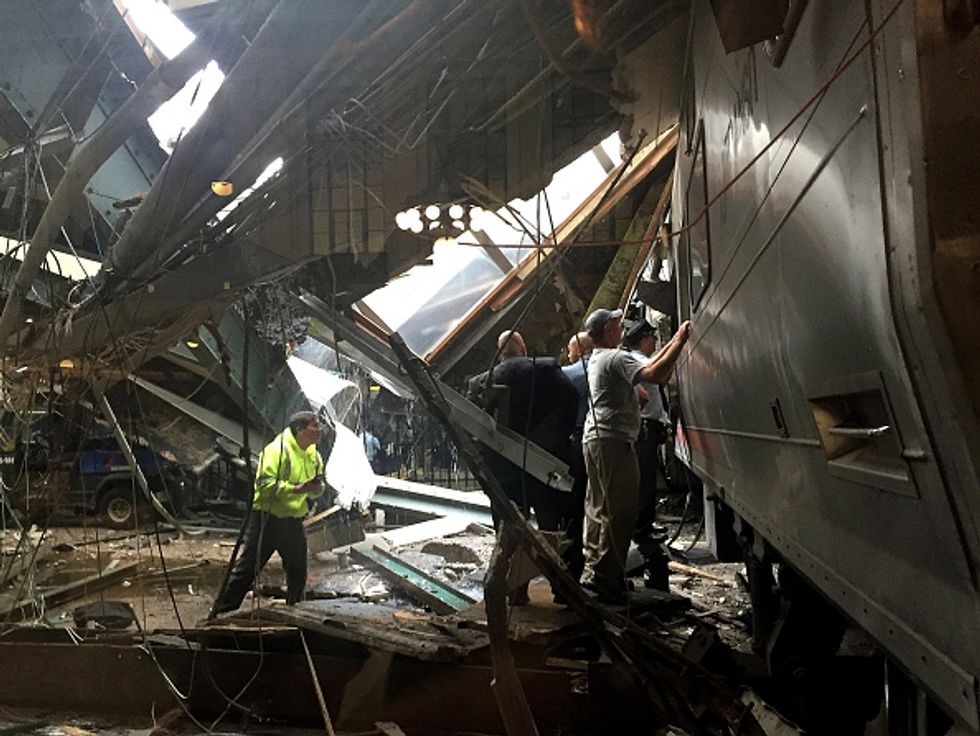 Train personel survey the NJ Transit train that crashed in to the platform at the Hoboken Terminal. (Getty Images/Pancho Bernasconi)
People pulled concrete off bleeding victims and passengers kicked out windows and crawled out amid crying and screaming after the arriving New Jersey Transit train smashed through a barrier at the end of its track and ground to a halt in a covered waiting area. It apparently knocked out pillars, collapsing a section of the roof onto the first car.
Ross Bauer, an IT specialist who was heading to his Manhattan job from his home in Hackensack, was sitting in the third or fourth car when the train pulled into the historic 109-year-old station.
"All of a sudden, there was an abrupt stop and a big jolt that threw people out of their seats. The lights went out, and we heard a loud crashing noise — like an explosion — that turned out to be the roof of the terminal," he said. "I heard panicked screams, and everyone was stunned."
Witnesses reported that as the train went into the station, it hit a concrete block with such force that it went airborne.
#Hoboken #traincrash train hit the station https://t.co/5xteTKLavU

— Leon O (@Leon O) 1475155196.0
The train's engineer remains hospitalized Thursday afternoon.
Mike Larson, a transit employee told reporters Thursday that it's unclear why the train did not stop. He did confirm that the train was traveling "definitely faster than it should have been."
"It was going considerably faster than it normally is supposed to," Larson, who witnessed the crash, said.
My train just ran full force into Hoboken Station. https://t.co/iumbXaXGvq

— jaydanahy (@jaydanahy) 1475153198.0
Passenger Bhagyesh Shah told MSNBC that he saw a woman who was pinned under concrete. He said eight or nine passengers assisted in pulling the concrete off of her.
Steve Mesiano, another passenger in the second car, said he was looking out the window when the train crashed into the station and witnessed the roof collapsing onto the first train car. He also reported seeing people in the station with "serious injuries."
"It was just a mess," he said. "I just tried to get out and get on the platform and get as far away from it as possible, as quick as possible. But I did see some pretty nasty stuff."
Christie praised EMS and law enforcement officials for their response to the crash as well as civilian passengers who helped to evacuate other passengers and assist with triage.
After surveying the damage and destruction in the train station with Christie, New York Gov. Andrew Cuomo (D) expressed his surprise that only one person has died thus far in the crash.
"When you see the destruction up close, the silver lining is that there has been only one fatality thus far because the destruction really is significant," Cuomo said.
The National Transportation Safety Board said it was sending investigators.
Hoboken, which is NJ Transit's fifth-busiest station with 15,000 boardings per weekday, is just across the Hudson River from New York City. It is the final stop for several train lines and a transfer point for many commuters on their way to New York City. Many passengers get off at Hoboken and take ferries or a PATH commuter train to New York.
None of NJ Transit's trains are fully equipped with positive train control, a safety system designed to prevent accidents by automatically slowing or stopping trains that are going too fast. The industry is under government orders to install PTC, but the deadline has been repeatedly extended by regulators at the request of the railroads. The deadline is now the end of 2018.
Jennifer Nelson, a spokeswoman for NJ Transit, said she didn't know how fast the train was going when it crashed through the bumper. Rail service was suspended in and out of Hoboken.
The train had left Spring Valley, New York, at 7:23 a.m. and crashed at 8:45 a.m., said NJ Transit spokeswoman Nancy Snyder.
More than 100,000 people use NJ Transit trains to commute from New Jersey into New York City daily.
New Jersey Transit buses, private carriers and Waterway ferries are accepting train tickets as the Hoboken station remains closed. PATH service is also suspended from the station.
.@FDNY deployed its Medical Evacuation Transport Unit (can carry 30+ patients) to Hoboken – @nycoem working w/ NJ c… https://t.co/GbLQSpWPjC

— NYC Mayor's Office (@NYC Mayor's Office) 1475159190.0
A crash at the same station on a different train line injured more than 30 people in 2011. The PATH commuter train crashed into bumpers at the end of the tracks on a Sunday morning.
NTSB vice chairwoman T. Bella Dinh-Zarr confirmed Thursday afternoon that they would be comparing this morning's crash to the one in 2011 during its investigation.
The Hoboken Terminal, which was built in 1907 and is listed on the National Register of Historic Places, has undergone waves of restoration, including a major project launched by NJ Transit in April 2004 that largely restored the building to its original condition.
Democratic presidential nominee Hillary Clinton and GOP nominee Donald Trump expressed their condolences for the victims in the crash on Twitter Thursday afternoon.
The images from the train derailment in NJ are horrifying. My prayers are with those who lost loved ones and the dozens who were injured. -H

— Hillary Clinton (@Hillary Clinton) 1475171173.0
My condolences to those involved in today's horrible accident in NJ and my deepest gratitude to all of the amazing first responders.

— Donald J. Trump (@Donald J. Trump) 1475172356.0
This is a breaking news story and will be updated. 
—