On the 40th anniversary of the Hyde Amendment, which bars the use of taxpayer funds for elective abortion procedures, pro-life groups celebrated its impact amid a push by pro-choice groups and Democratic presidential candidate Hillary Clinton to overturn it.
The amendment, named for the late Rep. Henry Hyde (R-Ill.), prohibits the use of government monies to pay for abortion procedures for Medicaid recipients and has been added to federal appropriations bills since 1976. The Charlotte Lozier Institute, the research arm of the pro-life Susan B. Anthony List, estimates the amendment has "saved over two million unborn children" from abortion.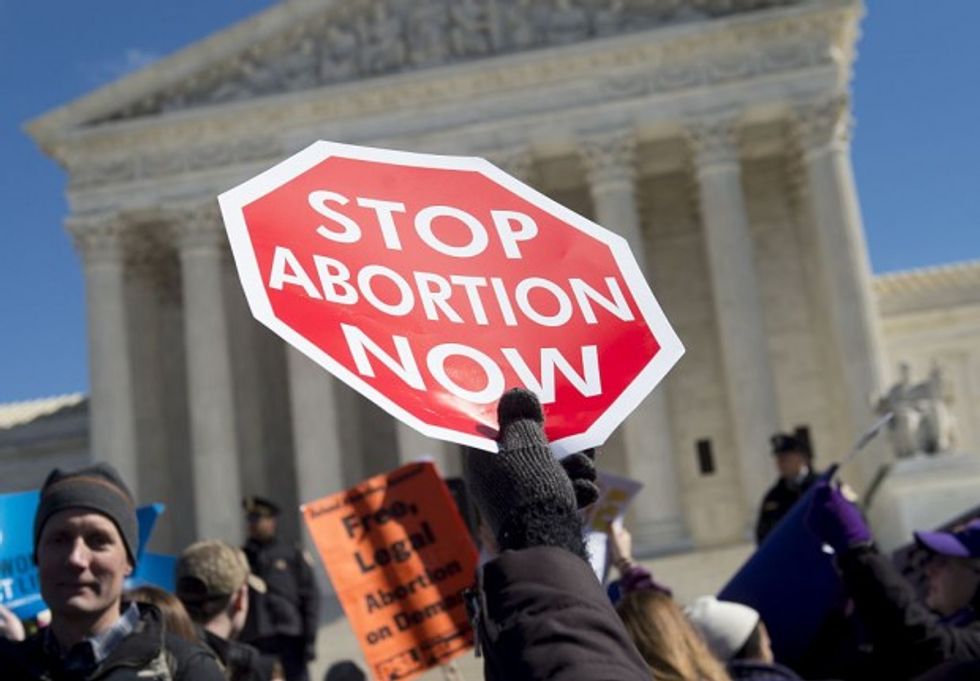 Anti-abortion activists rally outside of the Supreme Court in Washington, D.C. (Saul Loeb/AFP/Getty Images)
Proponents of the amendment hail it as a lifesaving and conscience-protecting measure, but opponents argue that it discriminates against low-income women by barring them access to a medical procedure akin to any other.
Kristin Hawkins, president of Students for Life, told TheBlaze that Hyde "was a staunch defender of the preborn and their mothers" and that "through his amendment, millions of lives have been saved and millions of women and their families were spared the destruction of the aftermath of abortion."
"A majority of Americans – both pro-life and pro-choice – are adamantly opposed to their tax dollars directly funding abortion," Hawkins said. "And the Hyde Amendment recognizes those valid concerns."
"Unfortunately, Planned Parenthood, the nation's largest abortion vendor who already rakes in over half a billion dollars a year from taxpayers, has made it their mission to politicalize abortion, demand repeal of the Hyde Amendment, and force taxpayers to write checks to abortionists," she continued. "The Hyde Amendment has survived through both Democrat and Republican administrations. It is non-partisan policy position yet Planned Parenthood is so greedy with their an insatiable appetite for the almighty dollar, they are now pushing their extreme views on the unwitting American people."
Lila Rose, founder and president of Live Action, also heralded the amendment. "Two million Americans are alive today because of the Hyde Amendment. When compared to highway, workplace and child safety laws, Hyde should be lauded as one of the most successful life-saving laws in history," she told TheBlaze. "Yet Planned Parenthood and its allies in Washington want to repeal the Hyde Amendment, telling 2 million of our fellow citizens, 'Your lives weren't worth saving,' and forcing the American people to pay for elective abortions against their will."
Rose argued that "while Hyde still doesn't prevent Planned Parenthood from getting over half a billion dollars a year in taxpayer funding, it does keep the chain from using taxpayer money to offer free, subsidized abortions and pushing abortions on more American women."
"On Hyde's 40th anniversary, we have to tell our elected leaders to strengthen the Hyde Amendment, not weaken it, and once and for all, end all public funding of abortions and of any business that commits them," Rose said.
Opponents of the legislation have recently begun a renewed push to overturn the amendment, including a call for its abolishment in the latest Democratic Party platform.
"We will continue to oppose — and seek to overturn — federal and state laws and policies that impede a woman's access to abortion, including by repealing the Hyde Amendment," the 2016 platform states.
Clinton has pledged to work to overturn the Hyde Amendment if she is elected president.
In her first speech after winning the requisite 2,382 delegates to become her party's presidential nominee, Clinton told the Planned Parenthood Action Fund, "Let's repeal laws like the Hyde Amendment that make it nearly impossible, make it nearly impossible for low-income women, disproportionately women of color, to exercise their full reproductive rights."
In a recent Medium post, Planned Parenthood President and CEO Cecile Richards slammed the Hyde Amendment as "a harmful law that denies access to abortion to those who have public insurance, discriminating against low-income women and, disproportionately, women of color."
The anniversary of the legislation might not attract much attention from the media. Despite the renewed push to overturn Hyde from its opponents, a study by the Media Research Center found that the issue has not resulted in media coverage. The study states that "network anchors and correspondents haven't said the words 'Hyde Amendment' in the past five years."
—
Follow the author of this story on Twitter and Facebook: