Michael Reagan, son of former President Ronald Reagan, unleashed a tweet storm on Donald Trump Monday morning, explaining why his father and step-mother, former first lady Nancy Reagan, would not support the Republican presidential nominee.
Michael Reagan, 71, has been staunchly opposed to Trump throughout the entire election, but it seemed to reach a boiling point on when over the weekend Trump suggested that Democratic presidential nominee Hillary Clinton has cheated on her husband, former President Bill Clinton.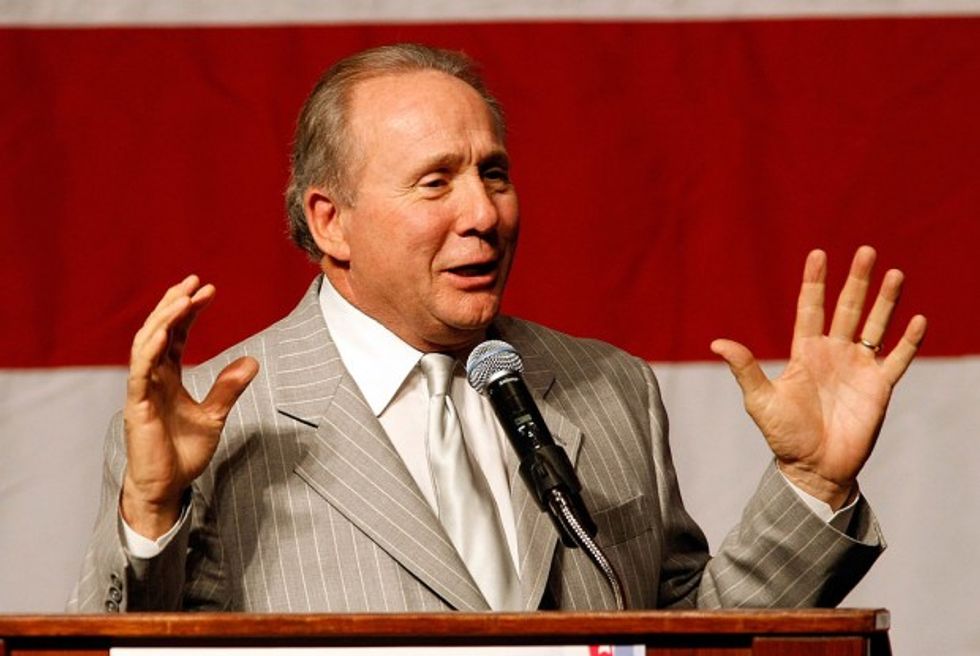 Ethan Miller/Getty Images
"If the [Republican National Committee] supports this, I can't support the RNC," Michael Reagan tweeted, later adding, "There is no reason to infer she is cheating on Bill."
He went on to say he is "embarrassed by Trump" for his suggestion that Clinton has been unfaithful.
I am embarrassed by Trump and the applause he receives when infering she cheats on Bill..Not the Party of Reagan..S… https://t.co/HTAPuoplf4

— Michael Reagan (@Michael Reagan)1475507924.0
When someone suggested Nancy Reagan was always loyal to the GOP and would support Trump, Michael Reagan went so far as to say — even though his biological mother was actor Jane Wyman — he is certain the former first lady, who died in March, would have voted for Clinton.
He even wrote that she was "appalled" to hear some compared Trump to Ronald Reagan.
Jane Wyman was my mother but I can tell u that Nancy would vote for Hillary and was appalled to hear people say he… https://t.co/8ZGVzr1r0s

— Michael Reagan (@Michael Reagan)1475473014.0
As for his father, Michael Reagan said he's "glad" The Gipper isn't alive to see Trump as his party's standard-bearer.
"He would tell us to vote the down ticket to stop Hillary," Michael Reagan wrote.
I am glad my father is not alive to watch this...He would tell us to vote the down ticket to stop Hillary.. https://t.co/ruSKUGaEZ8

— Michael Reagan (@Michael Reagan)1475474907.0
Over the summer, Michael Reagan said his dad would be "confused" by Trump's success and the way he's running his campaign.
—
Follow the author of this story on Twitter: