© 2023 Blaze Media LLC. All rights reserved.
"I don't like the hypocrisy of it all."
Former Texas Rep. Ron Paul, a darling of the libertarian movement, told TheBlaze's Dana Loesch Wednesday evening that he shouldn't be in politics because he wants to see elected officials "state a position" on the issues and stand by it.
Paul made headlines earlier this week for telling Fox Business host Maria Bartiromo that he has been "disappointed" with Libertarian presidential nominee Gary Johnson and further stating that if voters are "sincere progressives" they should cast their ballot for Green Party candidate Jill Stein.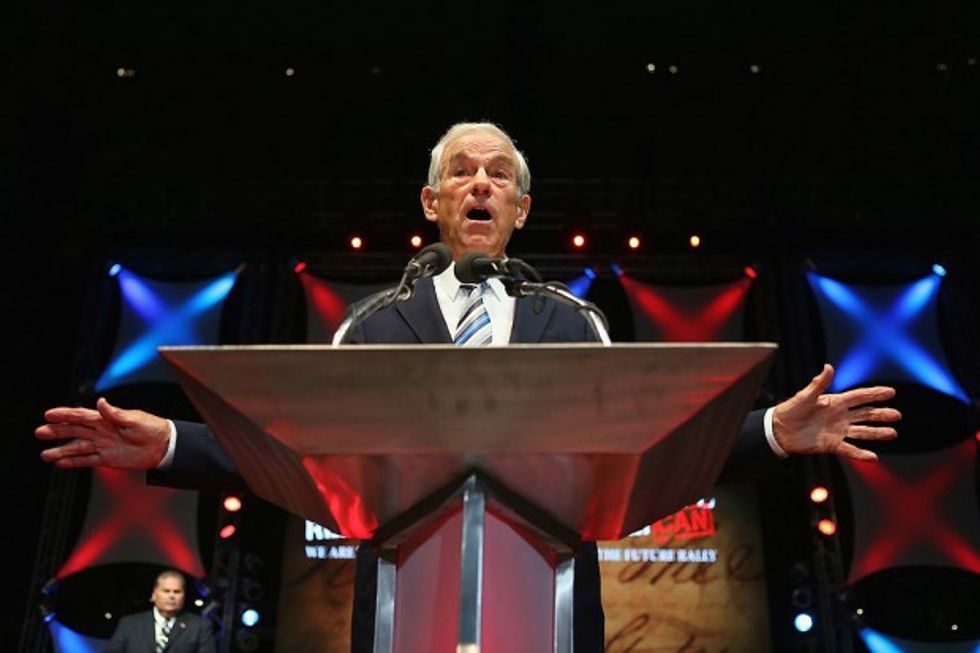 Joe Raedle/Getty Images
That comment was misconstrued by many to be an endorsement of Stein. When Loesch brought the issue up, she said Paul's praise of the Green Party nominee has been "inaccurately" described as an endorsement.
According to Paul, his comments were not actually an expression of support, but more so an appreciation for her willingness to be forthright about her positions.
"In a way, I probably don't belong in politics because they say, 'That's the art of compromise,'" the former congressman said. "Because I want people to state a position. A progressive that states their position I have a lot of respect for."
When two opposing politicians are committed to their policy ideas, Paul said, there are topics on which they will "overlap" ideologically. But no one wins when lawmakers shift their positions.
"When a libertarian is out there trying to establish this principle of nonaggression and teach people about it and then not follow it, that bothers me," Paul said of the apparent fluidity in the current political discourse. "Conservatives in the Republican Party do the same thing."
Paul lamented to Loesch that the GOP could have control of the entire Congress and the presidency "and never cut a penny" of spending.
"I don't like the hypocrisy of it all," he said.
Watch the exchange below: —
Follow the author of this story on Twitter:
Want to leave a tip?
We answer to you. Help keep our content free of advertisers and big tech censorship by leaving a tip today.
more stories
Sign up for the Blaze newsletter
By signing up, you agree to our
Privacy Policy
and
Terms of Use
, and agree to receive content that may sometimes include advertisements. You may opt out at any time.