Following the release of video and audio from 2005 on Friday that detailed vulgar comments from Republican nominee Donald Trump about how he might commit adultery and how he gropes women, Utah Sen. Mike Lee posted a video to Facebook calling on Trump to step down as the Republican presidential nominee.
Lee, one of the nation's foremost conservative figures who has not endorsed Trump for president, posted the nearly four minute long video from his home in Utah.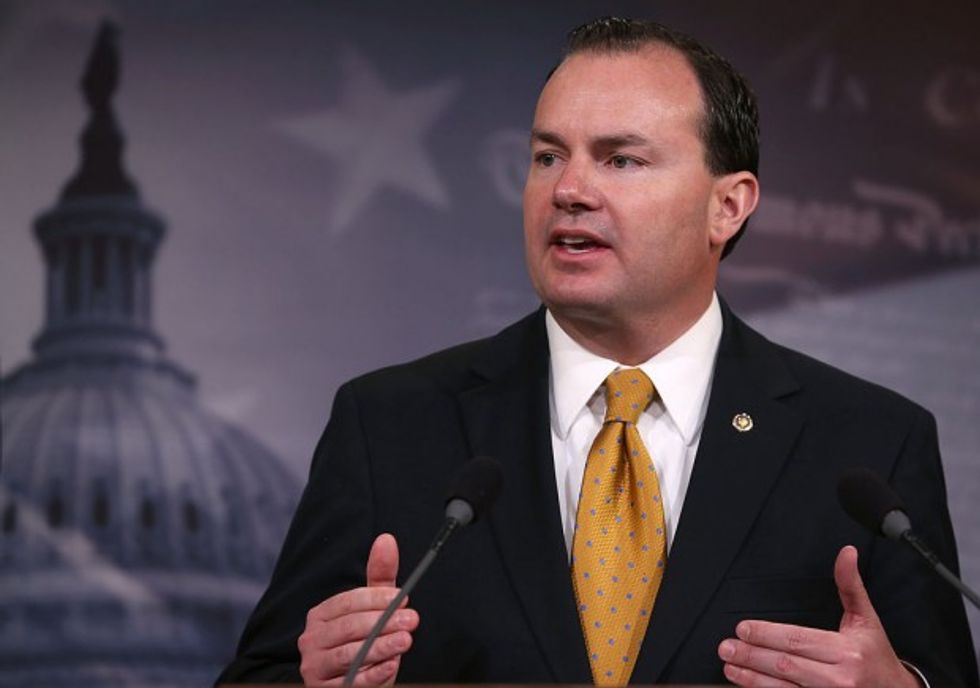 Getty Images/Mark Wilson
Lee began the video by saying he had been reflecting on many of Trump's past statements, including the bombshell comments released Friday.
"If anyone spoke to my wife, or my daughters, or my mother or any of my five sisters the way Mr. Trump has spoken to women, I wouldn't hire that person — I wouldn't hire that person, I wouldn't want to be associated with that person," Lee began. "And I certainly don't think I'd feel comfortable hiring that person to be the leader of the free world."
Though the comments weren't directed at any of Lee's family, Lee said that Trump's comments were directed at someone's mother or daughter or sister.
"The fact is, we have been asked to settle — we've been asked to settle time and time and time again with our government. And we've been asked to settle on matters of great principle with our candidate for president of the United States," Lee said. "It's time for us not to settle, it's time for us to expect more."
According to Lee, as a Republican or conservative, there are certain principles a person but abide by, and their success is only determined on how well they embody those principles. Those principles, Lee said, will help Republicans win back the White House in November.
"That's the only way to get there," he said.
"Meanwhile, as we've been asked to settle, we've been given a huge series of distractions. Mr. Trump himself has acknowledged this and identified this series of events tonight as a mere distraction," the senator continued. "Well, with all due respect sir, you, sir, are the distraction. Your conduct, sir, is the distraction — is the distraction from the very principles that will help us win in November."
"You yourself, Mr. Trump, have stated repeatedly that the goal, the objective has got to be to defeat Hillary Clinton in November. I couldn't agree more. It's for precisely that reason, Mr. Trump, that I respectfully ask you, with all due respect, to step aside — step down," Lee added. "Allow someone else to carry the banner of these principles — these principles that have made our country great."
This is the time for Republicans and conservatives alike to come together, Lee went on to say, adding that conservatives should no longer settle their principles.
"My fellow Americans and my fellow Republicans, lets find a candidate who can carry that banner without distraction and without settling," Lee concluded.
Watch Lee's full video below:
TheBlaze has reached out to Sen. Lee seeking additional details on who he thinks would be best to replace Trump, and we will update should the Senator respond.
Many other top Republicans, both in the House and Senate, have called on Trump to step down as the GOP nominee, including House hawk Rep. Jason Chaffetz (R-Utah). Reince Priebus, chairman of the Republican National committee, has also rebuked Trump.
—
Follow the author of this story on Twitter and Facebook:
[facebook //www.facebook.com/plugins/like.php?href=