Republican nominee Donald Trump began the second 2016 presidential debate by defending himself and apologizing for the crude comments he made about women in 2005 that were leaked last week.
"I was embarrassed by it, but I have tremendous respect for women," Trump said Sunday night in St. Louis, Missouri.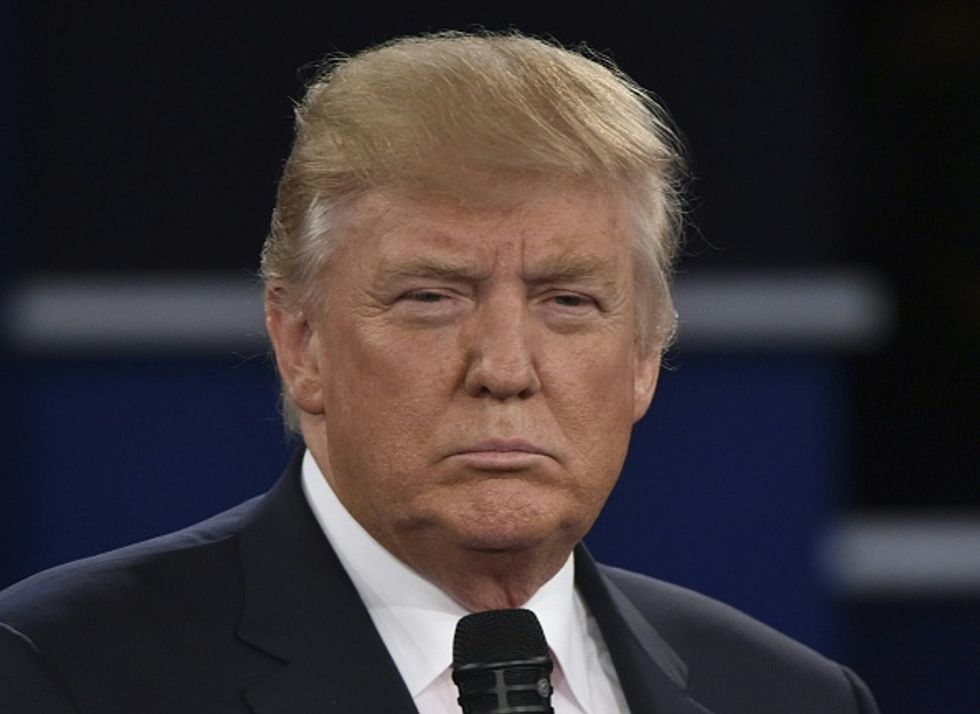 Republican presidential candidate Donald Trump listens during the second presidential debate at Washington University in St. Louis, Missouri. (Getty Images/Paul J. Richards)
Debate moderator Anderson Cooper pressed Trump on whether he actually sexually assaulted women multiple times before Trump answered in the negative.
"You described kissing women without their consent, grabbing their genitals," Cooper said. "That is sexual assault. You bragged that you have sexually assaulted women. Do you understand that."
Trump suggested that Cooper did not understand what was said in the leaked audio and contended that the comments were simply "locker room talk."
"I'm not proud of it," Trump said. "I apologized to my family. I apologized to the American people. Certainly I'm not proud of it, but it is locker room talk."
Democratic presidential nominee Hillary Clinton said while she has disagreed with Republican presidential candidates or presidents in the past, she has "never questioned their fitness to serve."
"Donald Trump is different," Clinton said. "I said starting back in June that he is not fit to be commander-in-chief and many Republicans and independents have said the same thing."
The exchange regarding the lewd remarks began when Patrice Brock, an undecided voter, asked the candidates if they are "modeling appropriate behavior for today's youth."
Trump promised Sunday night that should he win, he would have his attorney general appoint a special prosecutor to look into Clinton's "situation" — referring to her use of a personal email during her tenure as secretary of state.
Clinton responded by suggesting that Trump was not sticking to the facts and simply wanted to divert from the topic of his leaked comments regarding women.
But Trump thought not enough time was spent on discussing Clinton's email controversy — a question he even asked the debate moderators.
"Nice. One-on-three," Trump said, implying that he was debating against Clinton as well as the two moderators.
The Trump campaign was rocked over the weekend following a bombshell report from the Washington Post that included leaked audio from 2005 in which the Republican presidential nominee spoke crudely about women.
While Trump has apologized, several prominent Republicans have denounced Trump's lewd remarks and have called for him to withdraw from the race.
But even in his apology, Trump took the chance to criticize the Clintons.
"Hillary Clinton and her kind have run our country into the ground. I've said some foolish things, but there's a big difference between the words and actions of other people," he said. "Bill Clinton has actually abused women and Hillary has bullied, attacked, shamed and intimidated his victims."
Trump held a press conference prior to the debate with multiple women who have accused the former president of sexual misdeeds.
"If you look at Bill Clinton, far worse," Trump said Sunday night during the debate. "Mine are words, and his was action. What he's done to women, there's never been anybody in the history of politics in this nation that's been so abusive to women."
"Hillary Clinton attacked those same women and attacked them viciously," he added. "When she talks about words that I said 11 years ago, I think it's disgraceful and I think she should be ashamed of herself, if you want to know the truth."
—