As Donald Trump detailed the consequences of former President Bill Clinton's sexual scandals, a television camera caught Bill Clinton's facial expression from the audience during Sunday night's debate.
You might say the former commander in chief wasn't too happy: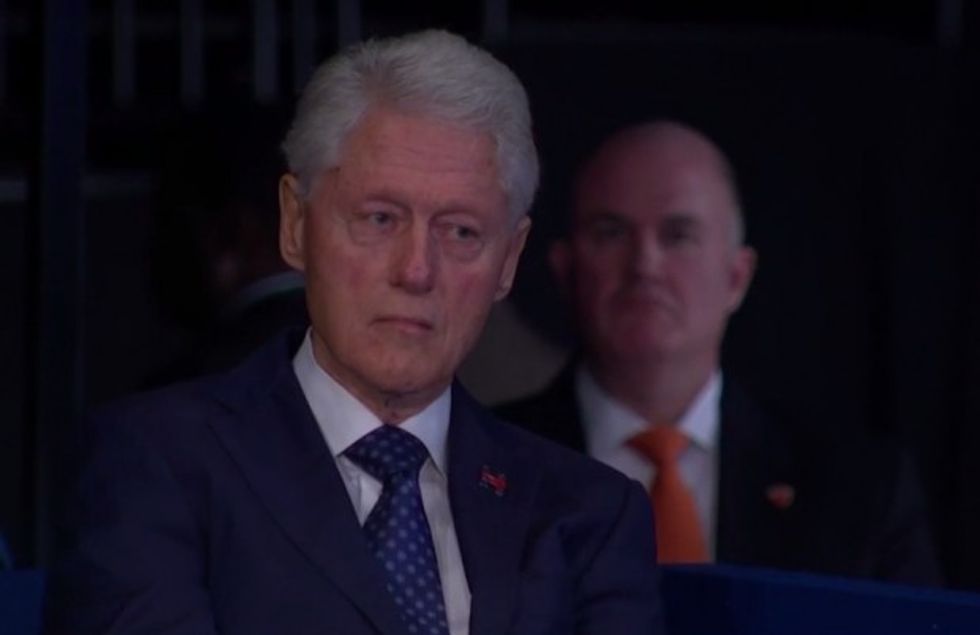 Image source: YouTube
Trump used the moment to redirect outrage over audio that surfaced Friday in which the Manhattan billionaire is heard describing women in lewd terms. A number of prominent Republicans insisted Trump should step aside from the campaign over the audio; Trump refused and apologized.
But he said during the debate that his "locker-room" banter represented only words — and that the Clintons have done far worse through their actions.
"So don't tell me about words. Absolutely I apologize for those words," Trump said before noting that Bill Clinton was impeached, lost his law license and paid an $850,000 settlement to Paula Jones over her accusations of sexual harassment. Trump added that Hillary Clinton attacked women who accused her husband of sexual abuse, and therefore chiding him for the leaked audio is "disgraceful and I think she should be ashamed of herself, if you want to know the truth."
Trump also held a press conference prior to the debate featuring Jones, Juanita Broaddrick and Kathleen Willey, all of whom expressed support for Trump while accusing Bill Clinton of sexual misdeeds. Kathy Shelton — who was allegedly raped in 1975 at the age of 12 and accused Hillary Clinton of "laughing" and knowing the man she represented in the case was guilty — also appeared during the press conference.
Here's video of the debate. The relevant portion — including Bill Clinton's facial expression — begins at the 45:45 mark: