Samsung issued a statement Monday asking its customers to immediately power down their Galaxy Note 7 smartphones because they've been spontaneously catching on fire.
In addition, the South Korean technology company said it will "ask all carrier and retail partners globally to stop sales and exchanges of the Galaxy Note 7" — a move that comes one day after halting production of the flammable devices.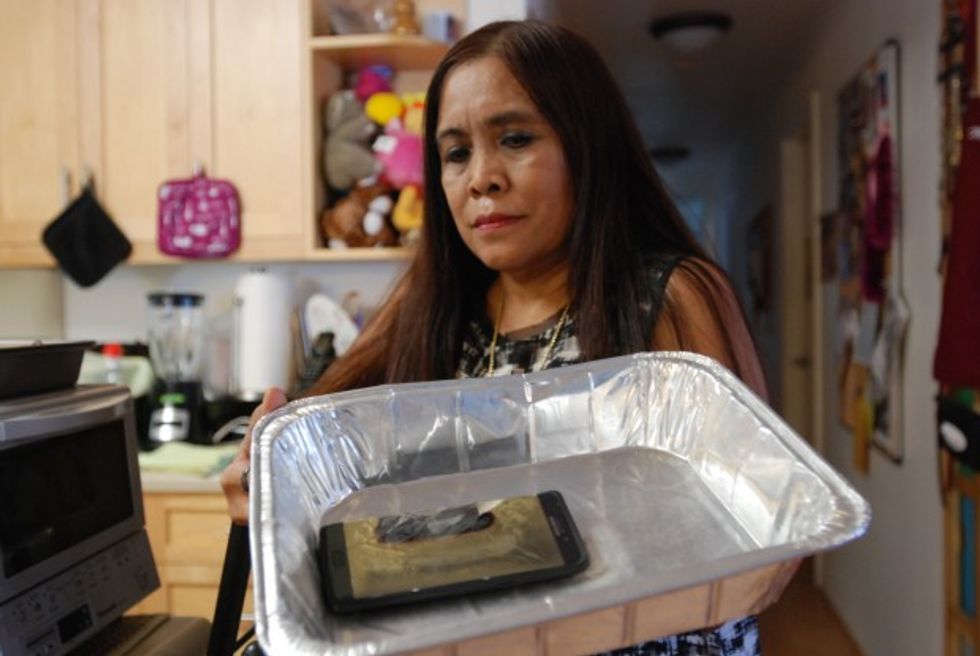 Dee Decasa holds her replacement Galaxy Note 7 smartphone in an aluminum pan at her home in Honolulu on Monday, Oct. 10, 2016, one day after the phone released smoke and sizzled. (AP Photo/Audrey McAvoy)
The drastic measure by Samsung follows a previous statement from American safety regulators, who urged Galaxy Note 7 users to "immediately stop using and power down" their smartphones. However, it took nearly a month for the tech company to follow suit.
Elliot F. Kaye, chairman of the Consumer Product Safety Commission, said Monday that Samsung made the "right move," adding, "No one should have to be concerned their phone will endanger them, their family or their property."
The decision comes on the heels of two incidents in which Samsung devices caught fire. The company offered customers replacement phones, but even those are catching fire.
One Kentucky user recently reported that his replacement phone — even though it was not plugged in — suddenly burst into flames in a moment that left him "scared to death." And Wednesday, in a similar situation, one user's Galaxy Note 7 started smoking while he was on an airplane. The problem occurred before take off, so the Southwest Airlines flight was cancelled.
The plane incident is being investigated by the U.S. Consumer Product Safety Commission.