In early October, Rep. Scott Garrett (R-N.J.) addressed a local diner full of people gathered for a Campaign for Liberty Event.
He spoke to constituents about his job in Washington — he's been there since 2003 — and addressed concerns about the economy and national security. He thanked the organizers of the breakfast in River Edge, New Jersey, including those who served the coffee, and went on his way.
But less than a week later, Garrett's re-election campaign began fielding questions from reporters regarding allegations that the New Jersey congressman has fraternized with a group labeled by his state as a "domestic terrorist threat" and about whether he "supports domestic terrorism" and whether he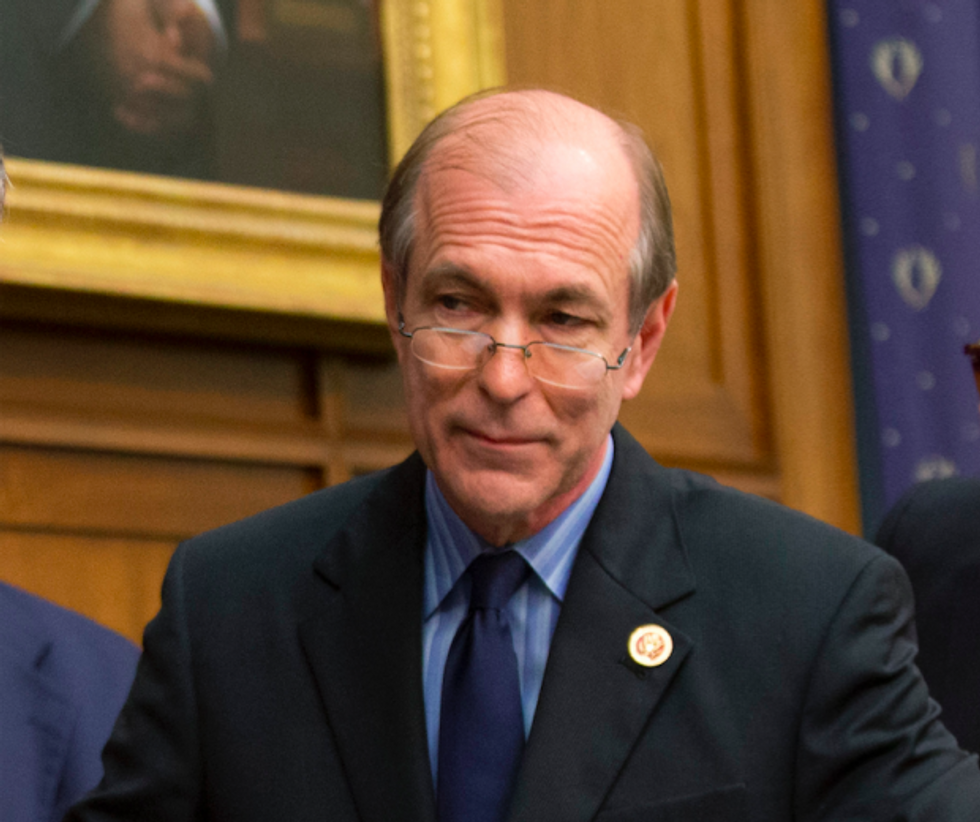 Rep. Scott Garrett (R-N.J.) on Capitol Hill in Washington.  (AP Photo/Manuel Balce Ceneta)
Garrett's campaign denied reports that the seven-term incumbent "headlined" a fundraiser event with the New Jersey Oath Keepers, a group that New Jersey's Office of Homeland Security has labeled "militia extremists" that pose a moderate "domestic terrorist threat."
According to Bloomberg Politics:
Republican Representative Scott Garrett of New Jersey, a seven-term incumbent locked in a close re-election race, headlined an Oct. 1 breakfast organized by an official for an antigovernment group that New Jersey's Office of Homeland Security and Preparedness considers a "domestic terrorist threat."

At the breakfast, Garrett hailed the official, Edward Durfee, as an "unsung hero." Durfee is regional coordinator for New Jersey Oath Keepers, a group state officials list as "militia extremists [who] pose a moderate threat to New Jersey." Durfee also co-founded the American Bedrock Foundation, which co-sponsored and collected payments for the Garrett breakfast.
In multiple interviews with campaign staff and the congressman himself, Garrett's team explicitly denied organizing an event with the Oath Keepers. And documentation provided to TheBlaze show that the breakfast was not organized by Edward Durfee, a regional coordinator of the New Jersey Oath Keepers.
"Are there Venn diagrams that can be drawn to link Garrett to Durfee? Probably," a campaign source told TheBlaze over the weekend. "But it's not like they send each other Valentine's Day cards or anything."
In an interview with TheBlaze over the weekend, Garrett contended that since the breakfast was a public event, his campaign did not screen any of the attendees. In fact, he said any of his constituents were welcomed at the event — even those invited by his opponent, lawyer and former President Bill Clinton speechwriter Josh Gottheimer.
"I am the voice for the people of the 5th Congressional District in Washington, so I need to hear from everyone in the 5th Congressional District. So no, I do not vet the people who I talk to," Garrett said. "When I run into them on the street or at an event or anyplace else, they can share with me their opinion on what needs to be done in Washington, and I can share my perspective on what is happening in Washington, and that's exactly what this forum or meeting was."
He added:
As far as the people who were at the event, I did what I always do at the end of an event — I say, "Thank you very much," and then people often give a little applause for me having just spoken, that's kind of just natural. And then I say, "Well don't thank me, thank anyone else who helped organize or people who worked the day getting people to sign in or serve the coffee or anything else." So I said, "Here's some good folks here who helped organize things and I want to thank them for getting the event together as well." So that's all that was — a friendly thank you to the people coming out, a friendly thank you for the people who invited us here, a friendly thank you to those who took part.

It makes absolute sense, and we explained that to Bloomberg. But if you want to find something, if you want to write a nefarious piece, they can find a way to do so, certainly if they're trying to help out the Democratic opponent.
Durfee was not the point of contact for Garrett's campaign when organizing the breakfast, but he did heavily promote the meet-and-greet on social media. According to a Facebook event page for the breakfast, the event was "sponsored by the Bergen County New Jersey for Liberty in conjunction with American Bedrock Foundation."
Durfee, the municipal GOP chairman of Northvale, told Bloomberg that the American Bedrock Foundation is "basically the fundraising arm for the Oath Keepers and other pro-Constitution groups."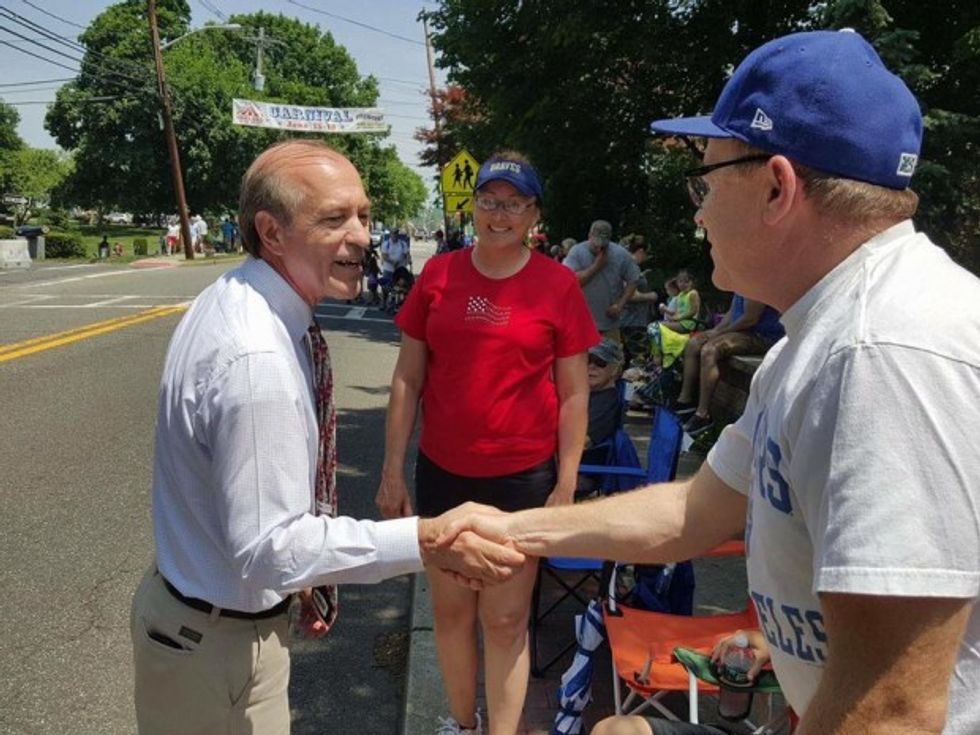 Image via Facebook/Scott Garrett
The campaign doesn't deny that any members of the Oath Keepers were present at the Campaign for Liberty breakfast. But it is denying their involvement in hosting the event.
Garrett's campaign manager, Sarah Neibart, told TheBlaze that Garrett "meets with a range of citizen groups to hear their feedback and address their issues." As for Saturday's meeting, it was a constituent meeting, she said. It was not a fundraiser.
"In advance of the event, our operation had no contact with Ed Durfee," Neibart said. "Any attendees with affiliations to outside organizations have nothing to do with Congressman Garrett."
"Congressman Garrett had no knowledge of any affiliation with the Oath Keepers, and we were not informed of any partnership, cosponsorship, alliance or any other aspect of their involvement in the event," she continued. "We never received a list of attendees in advance of the event."
Other campaign sources stressed that it's not surprising that Garrett would recognize Durfee considering he is a "local Republican organizer."
Emails provided to TheBlaze regarding the event show a Michael Koontz coordinating with campaign officials regarding the breakfast beginning Aug. 1. The campaign identified Koontz simply as "the organizer and point of contact for this event."
Koontz was added to the Bergen County New Jersey for Liberty Facebook group about a year ago.
While Garrett's campaign decried Bloomberg's "nefarious" report as well as the subsequent media attention that followed, the campaign also blamed its opponent for linking Garrett to the Oath Keepers.
"The sensationalist reporting otherwise is merely a fever dream cooked up by the Gottheimer campaign and a notoriously biased D.C. reporter," Neibart said.
According to the New Jersey Oath Keeper's website, the group's "oath is to the Constitution":
Oath Keepers is a non-partisan association of current and formerly serving military, reserves, National Guard, veterans, peace officers and fire fighters who will fulfill the Oath we swore, with the support of like-minded citizens, to support and defend the Constitution against all enemies, foreign and domestic, so help us God.
The Oath Keepers were also involved in the 41-day Oregon ranch stand-off earlier this year.
According to NJ.com, the race between Garrett and Gottheimer is the only competitive House race in the state this year.
Rothenberg & Gonzales Political Report labeled the race as a "toss up" that tilts Republican. A recent poll commissioned by the Democratic Congressional Campaign Committee showed Garrett ahead by only two points among the 400 likely voters surveyed.
Durfee did not respond to an emailed request for comment from TheBlaze.