Former House Speaker Newt Gingrich is touting Republican presidential nominee Donald Trump's appeal to Catholics following disparaging remarks about the faith allegedly made by an aide to Democratic presidential nominee Hillary Clinton.
In an email chain including aides to Clinton, released by Wikileaks, participants mocked "conservative Catholicism" as "backwards."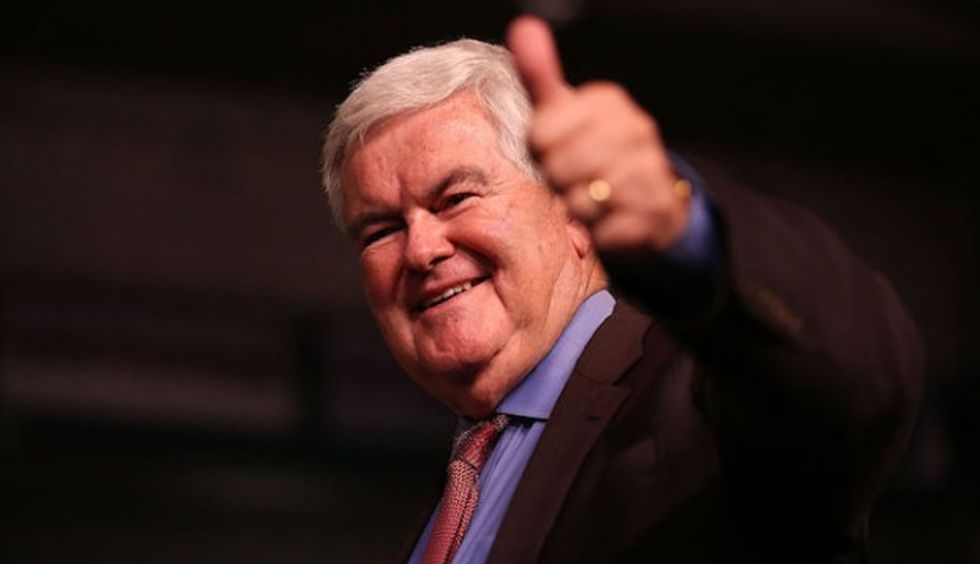 Former Speaker of the House Newt Gingrich (R-Ga.) gives a thumbs up after speaking before the arrival of Republican presidential candidate Donald Trump during a Sept. 19 campaign rally in Estero, Florida. (Joe Raedle/Getty Images)

In a press call with Trump campaign surrogates Wednesday regarding campaign's take on the leaked email messages, TheBlaze asked if, given Trump's attempted feud with Pope Francis and his defense of Planned Parenthood, the GOP nominee is in a position to be a champion for Catholics.
Gingrich responded by pivoting to the Supreme Court: "Let me just answer this very simply: Donald Trump has indicated clearly that Justice Scalia is his model for who he would appoint to the Supreme Court."
"Any worshiping Christian or Jew who's concerned about religious liberty would find those kind of Supreme Court appointments remarkably encouraging compared to the radicals that Hillary will appoint," Gingrich said. "And I think in that sense, on one of the larger issues, there's no question of a vast difference between where Donald Trump stands and where the Clinton campaign stands."
The 2011 email chain purportedly shows a conversation that took place between Clinton campaign communications director Jen Palmieri and Center for American Progress fellow John Halpin. Clinton campaign chairman John Podesta was copied on their discussion.
Halpin sent an email to Podesta and Palmieri mocking the Catholic faith of News Corp CEO Rupert Murdoch and Wall Street Journal managing editor Robert Thomson, writing that they "must be attracted to the systematic thought and severely backwards gender relations and must be totally unaware of Christian democracy."
Palmieri replied, "I imagine they think it is the most socially acceptable politically conservative religion."
"Their rich friends wouldn't understand if they became evangelicals," she wrote.
The email's contents were met with outrage by many Catholics and evangelicals. The Catholic League called for Clinton to sanction Palmieri for her remarks.