Fox Business anchor Lou Dobbs published the home address and telephone number of Jessica Leeds, one of the women who has recently accused Republican presidential nominee Donald Trump's of inappropriate sexual conduct, on his Twitter feed this morning, a practice known as "doxxing."
According to Politico, Dobbs quoted a tweet that originally contained Leeds' home address and telephone number; the original tweet has since been deleted, but Dobbs' original tweet quoting it remained up at the time of publication of this article.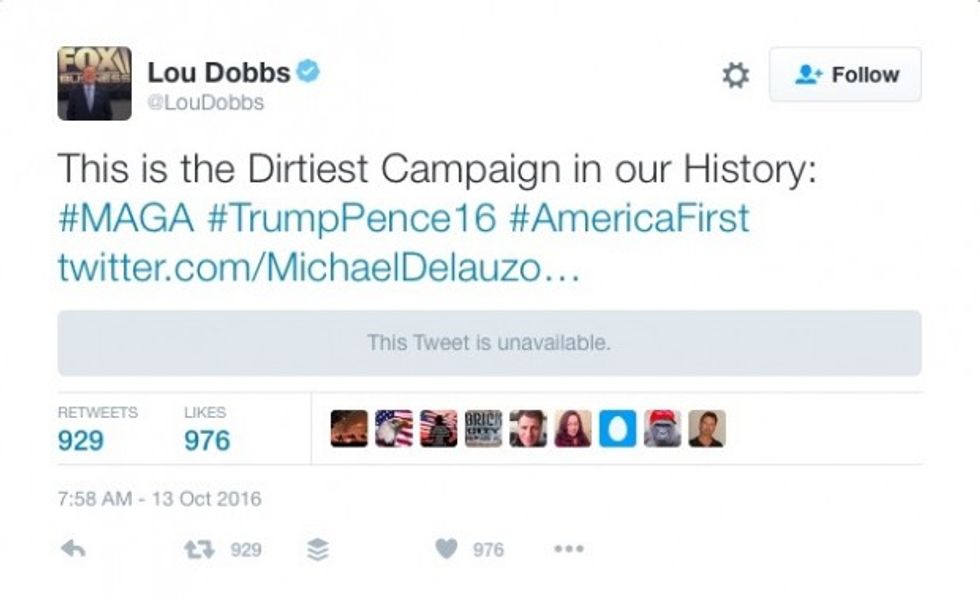 Image source: Twitter
Although Leeds' address and phone number are no longer visible, Dobbs' tweet was retweeted several hundred times before the original posting was taken down, and the information is now in the public domain.
Numerous Trump supporters have since followed suit in tweeting out Leeds' home address and phone number. Many have also falsely suggested that she has the same phone number as the Clinton Foundation, a claim that has been debunked.
Earlier this year, Trump himself made news by publishing the private cell phone number of Sen. Lindsay Graham (R-S.C.). Graham responded with a lighthearted video of him destroying his cell phone.
Given the intense scrutiny currently directed towards Leeds' story, the publishing of her private information raises much more serious concerns related to her continued personal safety.
UPDATE: Dobbs has apologized on Twitter for what he calls "my mistake."