Many prominent evangelical leaders have been criticized recently for their reactions to the "Access Hollywood" tapes in which Republican presidential nominee Donald Trump discussed his attempts to carry on extramarital affairs and bragged that he could make sexual advances on beautiful women because he was a star. Pastor Franklin Graham took to his Facebook page yesterday to defend the evangelical leaders who have remained in Trump's corner:
A lot of people are slamming evangelicals for supposedly giving Donald J. Trump a pass. That's simply not true. No one is giving him a pass. I'm certainly not, and I've not met an evangelical yet who condones his language or inexcusable behavior from over a decade ago. However, he has apologized to his wife, his family, and to the American people for this. He has taken full responsibility. This election isn't about Donald Trump's behavior from 11 years ago or Hillary Clinton's recent missing emails, lies, and false statements. This election is about the Supreme Court and the justices that the next president will nominate. Evangelicals are going to have to decide which candidate they trust to nominate men and women to the court who will defend the constitution and support religious freedoms. My prayer is that Christians will not be deceived by the liberal media about what is at stake for future generations.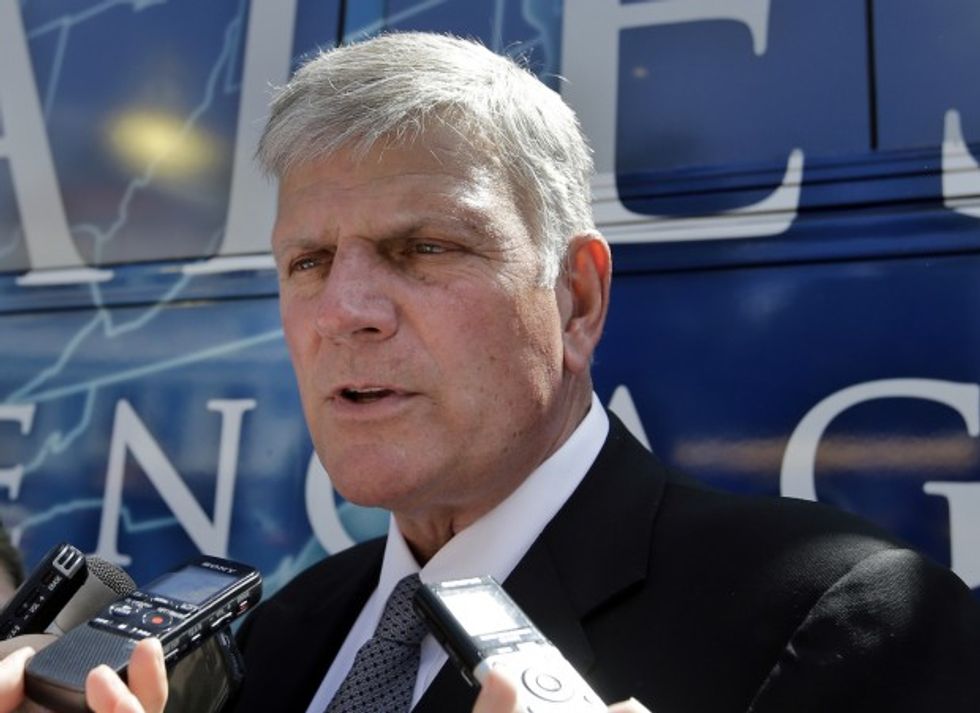 Evangelist Franklin Graham speaks to media in front of his bus after a mass prayer rally on Boston Common, Tuesday, Aug. 30, 2016, in Boston. Graham, the son of famed evangelist Billy Graham, is holding a 50-state "Decision America" tour to urge evangelicals to vote. (AP Photo/Elise Amendola)
Graham has publicly insisted that he is not endorsing either Trump or Democratic nominee Hillary Clinton; however, Graham's plea for Christians to focus on the Supreme Court exactly mirrors those evangelicals who have endorsed Trump. At a prayer rally in Raleigh yesterday, Graham told an assembled crowd of approximately 10,500 to "hold your nose and vote."
You have to decide which one of the two (presidential candidates) that you would trust to appoint justices that are going to protect our religious freedom as Christians. Vote where you can for people that are going to support Biblical principles.