Former New York City mayor Rudy Giuliani argued on CNN's "State of the Union" Sunday that Democrats are more likely to commit voter fraud than Republicans.
Giuliani's comments come amid increased speculation from Republicans that the upcoming election in November will be riddled with voter fraud. The speculation is mostly fueled by Republican nominee Donald Trump, who continues to say over Twitter, in debates and at political rallies that the election is "rigged" against him.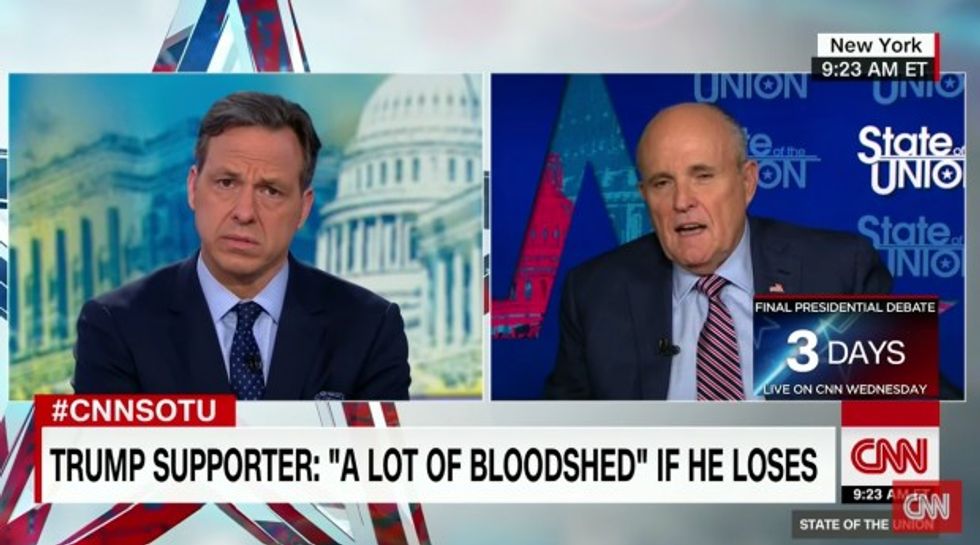 Image source: YouTube
Giuliani, who is a top Trump surrogate, backed his candidate's position Sunday when he said that in his experience as a politician, he's found that voter fraud is much more likely to occur in cities that are controlled by Democrats, citing Philadelphia and Chicago.
"I've found very few situations where Republicans cheat," Giuliani said. "They don't control the inner cities the way Democrats do. Maybe if Republicans controlled the inner cities, they'd do as much cheating as Democrats."
"I'm sorry. Dead people generally vote for Democrats rather than Republicans," he added
Giuliani also discussed with show host Jake Tapper the alleged strategy of those who commit voter fraud: bussing people to polling places.
"I can't sit here and tell you that they don't cheat, and I know because they control the polling places in these areas. There are no Republicans," Giuliani said. "Then it's very hard to get people there who will challenge votes. So what they do is they leave dead people on the rolls and then they pay people to vote [as] those dead people, four, five, six, seven, eight [times]."
However, Giuliani did concede that he doesn't think voter fraud will actually manipulate the outcome of the upcoming election unless a state is extremely close between Trump and Clinton.
For his part, Tapper told Giuliani that he thinks there are "a lot of elections experts that would have very, very strong disagreements with you."
Watch below:
—