When the Hillary Clinton campaign learned that the man behind the San Bernardino massacre last December was a Muslim, staffers lamented over the fact that he wasn't white.
In one of the hacked Clinton emails, a Clinton staffer shares a tweet from MSNBC host Chris Hayes announcing that "a US citizen named Sayeed Farouk believed to be one of the people involved in the shooting."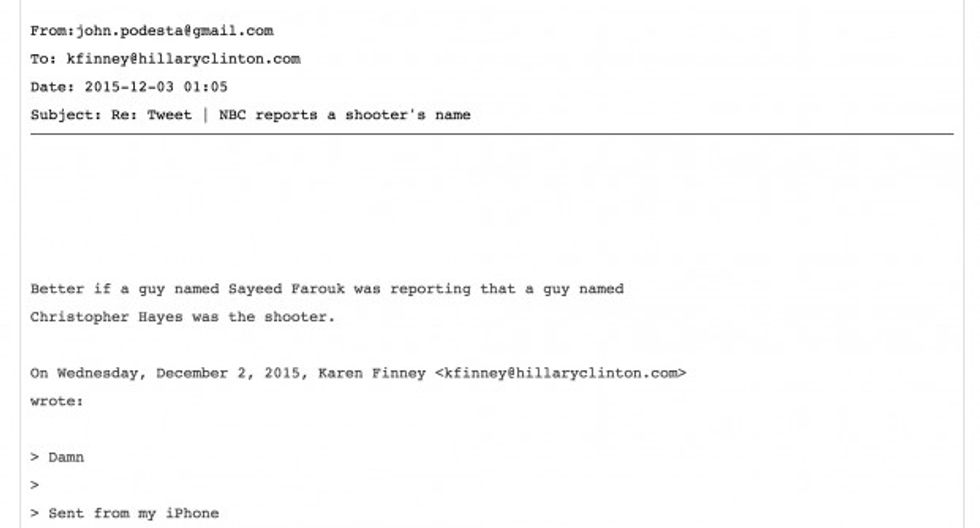 Image source: screenshot via WikiLeaks
In reply, another campaign staffer, Karen Finney, wrote: "Damn."
Clinton campaign chairman John Podesta, whose emails are at the center of the hack, added, "Better if a guy named Sayeed Farouk was reporting that a guy named Christopher Hayes was the shooter."
Podesta's emails have proved to be a treasure trove of damming information against the Clinton campaign and Democratic nominee Hillary Clinton herself. Also over the weekend, WikiLeaks released three transcripts of speeches that Clinton gave on Wall Street — something she and the campaign guard tightly.
(H/T: Mediaite)
—