President Barack Obama said Tuesday that Republican presidential nominee Donald Trump should "stop whining" that the election is "rigged" because the claim is "based on no facts."
At a press conference, Obama said that Trump's charge is "unprecedented" and noted that elections are overseen by "state and local officials" — not the federal government — and several swing states, such as Florida, have Republican governors.
"The notion that somehow, if Mr. Trump loses Florida, it's because of 'those people that you have to watch out for,' that is both irresponsible and, by the way, doesn't really show the kind of leadership and toughness that you'd want out of a president," he said.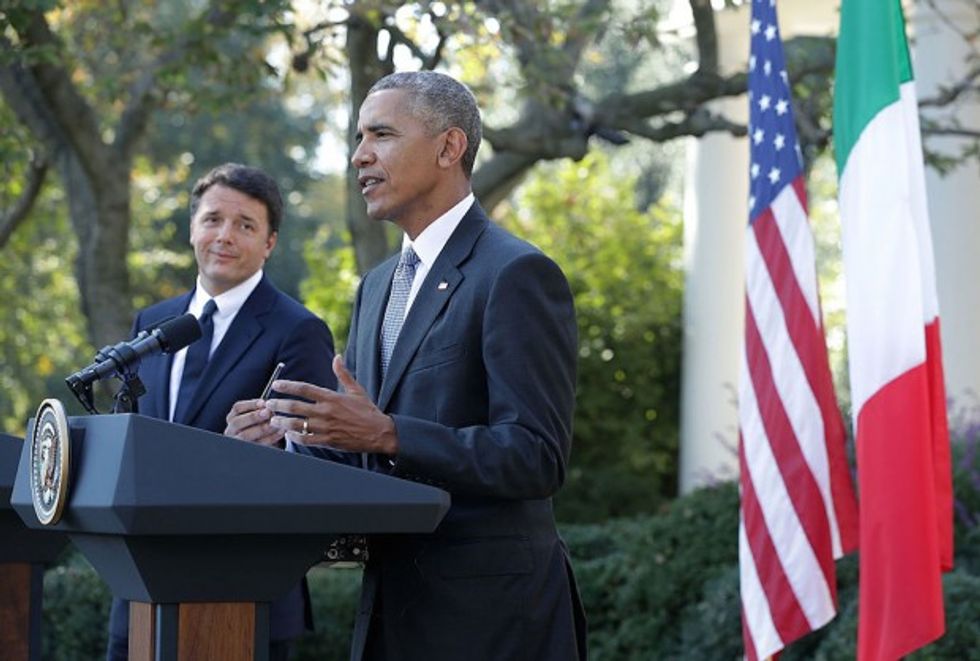 President Barack Obama and Prime Minister of Italy Matteo Renzi participate in a joint news conference at the Rose Garden of the White House on Tuesday. (Alex Wong/Getty Images)
The president went on to say that he has "never seen in my lifetime or in modern political history any presidential candidate trying to discredit the elections and the election process before votes have even taken place."
Obama said that, if one will blame others "whenever things are going badly for you and you lose," then "you don't have what it takes to be in this job."
"There's no evidence that that has happened in the past or that there are instances in which that will happen this time," he added. "I'd advise Mr. Trump to stop whining and go try to make his case to get votes."
Obama also called Trump's praise of Russian President Vladimir Putin "unprecedented":
Mr. Trump's continued flattery of Mr. Putin and the degree to which he appears to model many of his policies and approaches to politics on Mr. Putin is unprecedented in American politics and is out of step with not just what Democrats think but out of step with what up until the last few months, almost every Republican thought, including some of the ones who are now endorsing Mr. Trump.