Donald Trump is ready to "drain the swamp" — that is, Capitol Hill — if he wins the presidency in November.
The Republican presidential nominee vowed Tuesday during a rally in Colorado Springs to "break the cycle of corruption" by putting the kibosh on the special interests for which Washington, D.C., is known so well.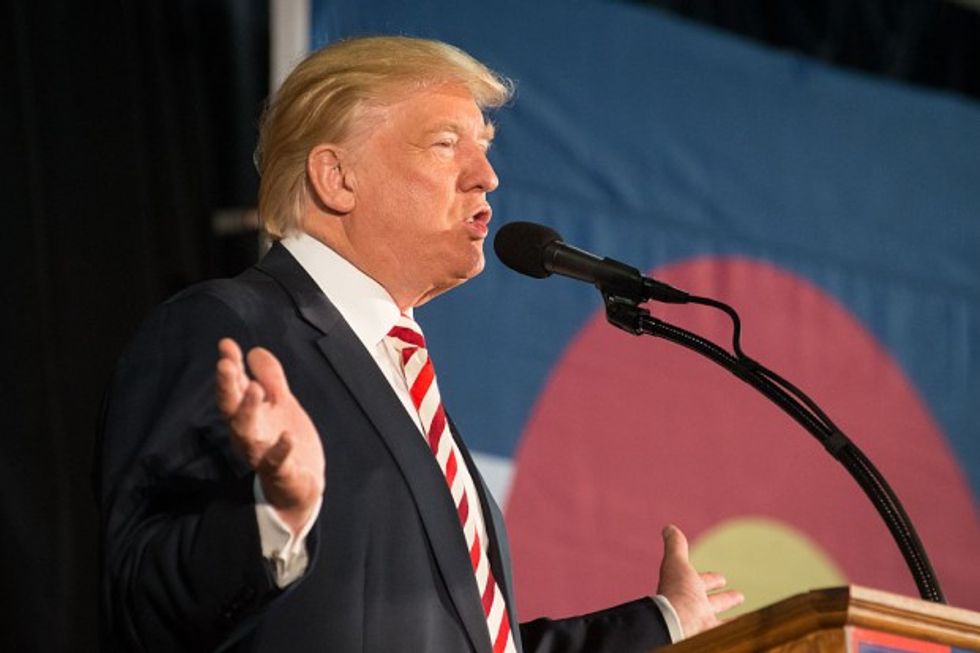 Republican candidate Donald Trump speaking at a rally in Colorado Springs Tuesday. (Theo Stroomer/Getty Images)
"If I am elected president, I will push for a constitutional amendment to impose term limits on all members of Congress," Trump told his rambunctious crowd of supporters. "Right? They've been talking about that for years."
Trump's campaign sought to elaborate on the proposal, which has perpetually failed to succeed due to a lack of support in Congress, in a press release following the speech.
"Decades of failure in Washington, and decades of special interest dealing, must come to an end," the statement read. "We have to break the cycle of corruption, and we have to give new voices a chance to go into government service. The time for Congressional term limits has arrived."
The decision to support term limits comes after Trump said in August he would take a "serious look" at the idea. In his Tuesday comments, Trump did not specify the maximum number of terms for House of Representatives and Senate members.
Several of Trump's Republican primary rivals, including Texas Sen. Ted Cruz, former Florida Gov. Jeb Bush, Florida Sen. Marco Rubio, Kentucky Sen. Rand Paul and retired neurosurgeon Ben Carson, have supported imposing term limits on members of Congress.
The idea has roots in former House Speaker Newt Gingrich's "Contract with America," which was proposed by congressional Republicans in 1994 under then-President Bill Clinton. The measure would have imposed a 12-year cap for Senate and House members, but it failed to garner enough support to move forward.
Today, Gingrich serves as a senior advisor to Trump's campaign.
See his comments:
Crowd goes wild as Trump proposes term limits for members of Congress. pic.twitter.com/1pImdgiphK

— Tom Llamas (@TomLlamasABC) October 18, 2016