Liberty University President Jerry Falwell Jr., an ardent supporter and surrogate of Republican nominee Donald Trump, recently censored one of his students after that student attempted to publish a column that was critical of Trump in the school's newspaper, the Liberty Champion.
Joel Schmieg, who serves as the sports editor of the Champion, was told by the school's administration earlier this week that his weekly column would not be published because of its criticism of Trump. The topic was Trump's recent sexual assault and harassment scandal fallout after the Washington Post published audio of Trump speaking extremely lewdly about women in 2005.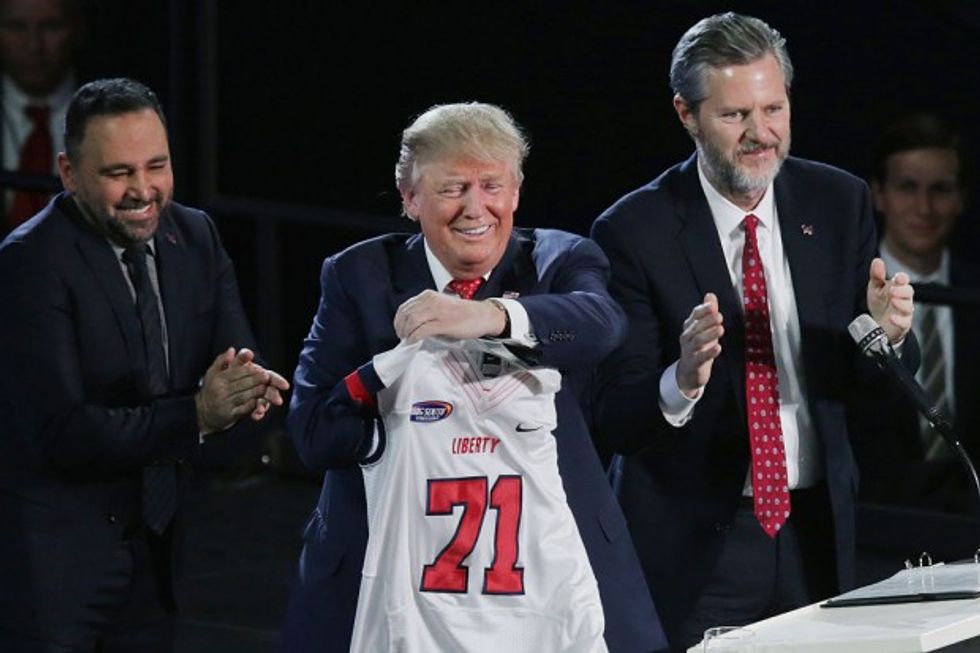 Liberty University President Jerry Falwell Jr. presents Republican presidential candidate Donald Trump with a sports jersey after Trump delivered the convocation in the Vines Center at the university in January. (Getty Images/Chip Somodevilla)
"[Y]esterday I was told [Falwell] was not allowing me to express my personal opinion in an article I wrote for my weekly column in the Liberty Champion about Trump and his 'locker room talk,'" Schmeig wrote in a Facebook post Tuesday.
According to the New York Daily News, the alleged reason why Falwell rejected the article was because the paper was already running an article that was positive of Democratic nominee Hillary Clinton.
However, for Schmieg, it was his first experience of being censored by his university. And while he says his sports section has never been edited by the administration, Falwell allegedly does alter articles in the newspaper from time to time.
"I know it happens. I don't know how often. I know, at the very least, he might take something from the opinion section and delete a paragraph," he told the Daily Beast in an interview.
Falwell was sent the column for approval because "everything controversial" gets sent to Falwell prior to publication, Schmieg told the Beast.
Schmeig added in his Facebook post that he thinks Falwell's censorship is hypocratical, given the fact that just recently Falwell touted the "free expression" Liberty students supposedly get to enjoy.
"I find these words from Jerry amusing and extremely hypocritical," Schmieg wrote, citing Falwell's recent comments.
And although Schmieg's column was nixed from the school newspaper, he did publish it in full on his Facebook page. You can read the full column here.