Democratic National Committee Chairwoman Donna Brazile says a number of emails published by WikiLeaks are "doctored" and that some of what DNC officials purportedly said in them have "not been verified."
During an interview with Fox News' Megyn Kelly following the third and final presidential debate on Wednesday, Kelly asked Brazile about one such email that indicated Hillary Clinton may have caught a glimpse of at least one Democratic primary debate question before the live event on CNN.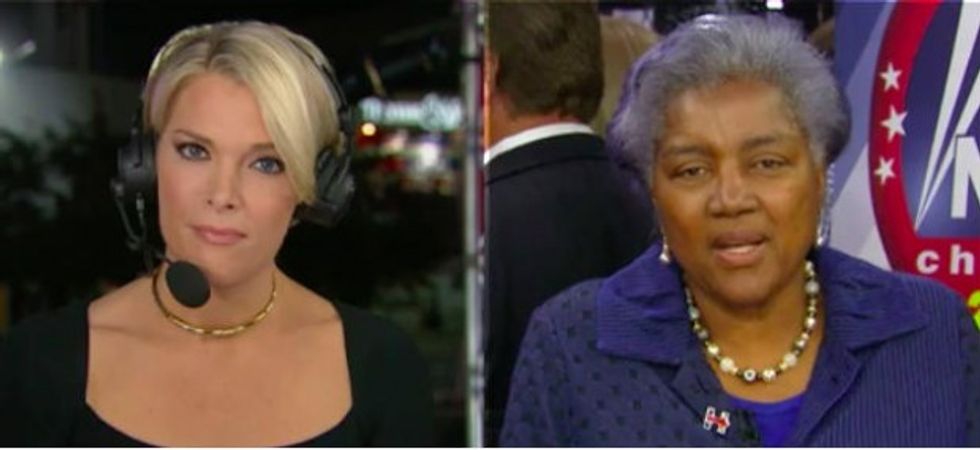 Image source: Fox News
Brazile, who was a CNN commentator at the time, denied any heads up was given to Clinton. The email in question shows the subject line "From time to time I get the questions in advance" and was allegedly sent by Brazile on March 12.
"Here's one that worries me about HRC," Brazile wrote to Clinton communications director Jennifer Palmieri, referring to a question about abolishing the death penalty. Palmieri responded, "Yes, it is one she gets asked about. Not everyone likes her answer but can share it."
Pressed on that exchange by Kelly, Brazile claimed she never sent that email.
"I have seen so many doctored emails. I have seen things that come from me at two in the morning that I don't even send. There are several email addresses that I once used. This has not been verified," Brazile said.
CNN anchor Jake Tapper last week called the revelation that Clinton might have gotten a debate question in advance "horrifying."
"Journalistically it's horrifying," Tapper said. "And I'm sure it will have an impact on partnering with this organization in the future, and I'm sure it will have and effect on — Donna Brazile is no longer with CNN because she's with the DNC right now — but I'm sure it will have some impact on Donna Brazille."
(H/T: Daily Caller)