Republican nominee Donald Trump wiped the floor with his competition during Wednesday night's debate — in time spent on screen, at least.
According to a study by iQ Media of debate data, Trump spent 86 minutes and 50 seconds on the screen during the day Wednesday and after the debate, while Democratic nominee Hillary Clinton was on screen for 64 minutes and 46 seconds.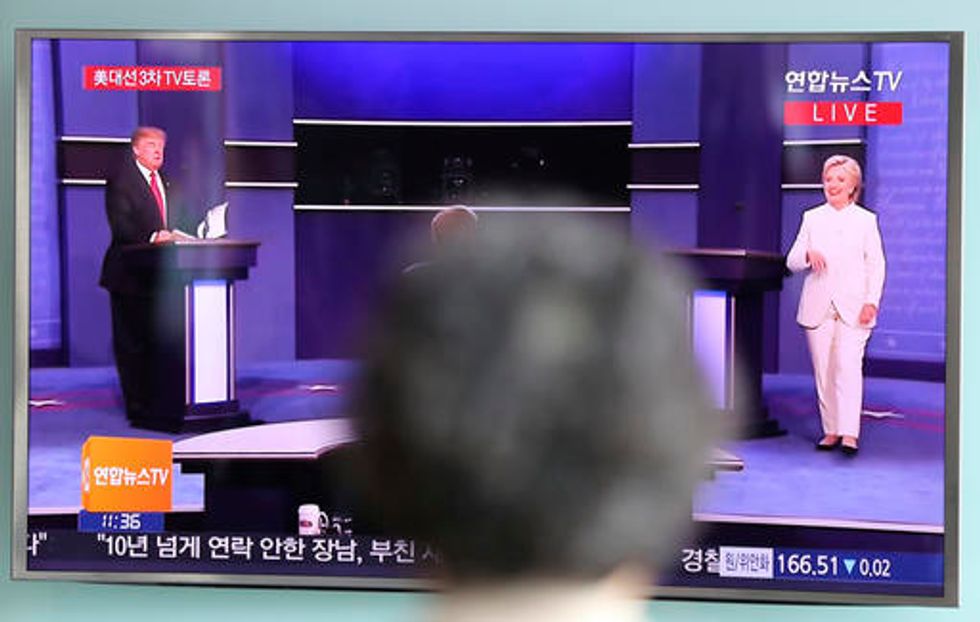 A woman in Seoul, South Korea, watches a TV screen showing the live broadcast of the U.S. presidential debate Thursday. (AP/Lee Jin-man)
That's a 3 percent improvement for Trump in screen time versus his performance around the second debate, but a 39 percent improvement for Clinton.
Clinton spent more time answering many of the debate questions than Trump did during the actual 90-minute debate, but the camera often went to a split-screen during her answers, showing the billionaire candidate also.
Trump also wins in the "earned TV" category — he was mentioned 9,714 times on television in the hours following the debate, compared to 6,734 times for Clinton, iQ Media reported.