Days after Iran sentenced an Iranian-American businessman and his father each to 10 years in prison, the Ayatollah said he is willing to release them on one condition: That the U.S. send "many billions of dollars" as a ransom payment.
An Iranian news outlet close to the country's Revolutionary Guard, which oversees the release of prisoners, reported that Iranian officials have decided to "wait and see" if the the U.S. will offer "many billions of dollars to release" the businessman, Siamak Namazi, and his 80-year-old father Baquer Namazi.
The two were convicted of "cooperating with the hostile American government" and sentenced on Tuesday, as TheBlaze reported earlier.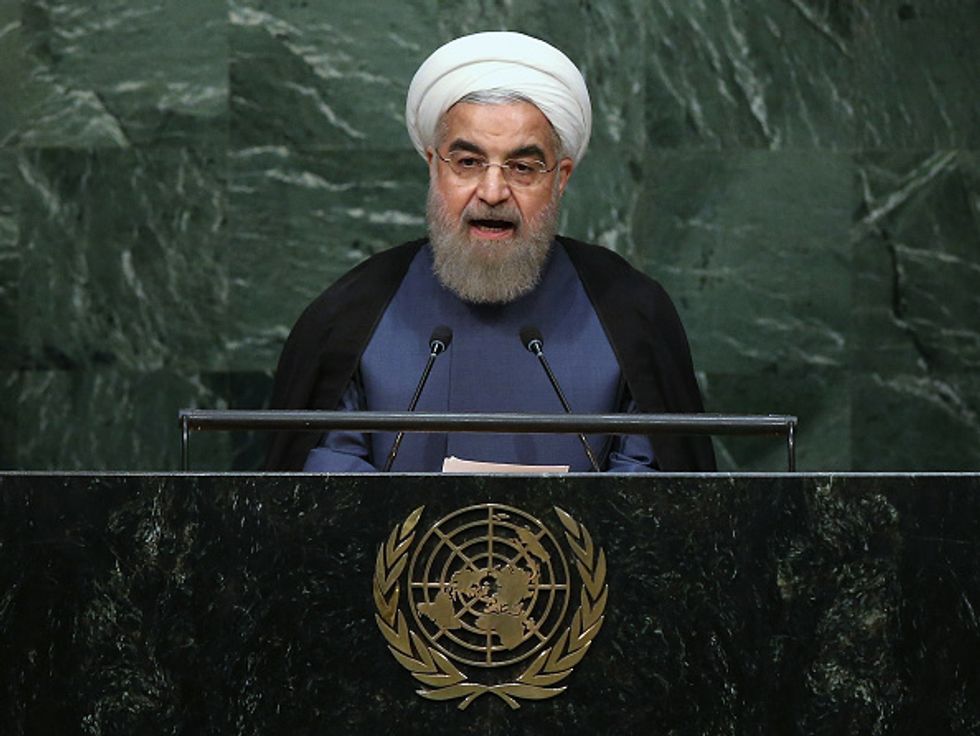 President of Iran Hassan Rouhani addresses the United Nations General Assembly on September 28, 2015 in New York City. World leaders gathered for the 70th session of the annual meeting. (John Moore/Getty Images)
The report comes just months after the Obama administration paid Iran $1.7 billion — at around the same time the country released a number of American hostages. The White House at the time insisted that the money was not a ransom payment.
But Iranian President Hassan Rouhani suggested in September that the exchange was just that.
During an exclusive interview with NBC News's Chuck Todd, Rouhani was asked if the country was holding American hostages until the U.S. handed over the money. The Islamic Republic believes that the U.S. has owed the sum since 1979, when the U.S. first imposed economic sanctions on the Middle Eastern nation.
"There were two issues, Rouhani said.  "One of them were the sums of monies belonging to the nation of Iran left in the United States, seized in the United States."
The Iranian president added: "There are still considerable sums of money in the United States that belong to our nation. And we're currently conducting conversations and various dialogues in order to return this money to Iran."
The Republican-controlled U.S. House of Representatives in September passed a bill that would have outlawed ransom payments to Iran.
The Obama administration has threatened to veto such legislation if it was passed by the whole of Congress, saying it might affect other business it plans to conduct with Iran, the Washington Post reported.
(H/T: Townhall)