A political action committee associated with Virginia Democratic Gov. Terry McAuliffe, a longtime friend of Bill and Hillary Clinton, donated nearly half a million dollars to the election campaign of the wife of an FBI official who later helped oversee the criminal probe into Hillary's private email server.
According to a Sunday night report from the Wall Street Journal, McAuliffe's political organization gave $467,500 to Dr. Jill McCabe's 2015 Virginia state Senate race. McCabe's husband is Andrew McCabe, the deputy director of the FBI who was responsible for helping lead the investigation into Clinton's email practices as secretary of state.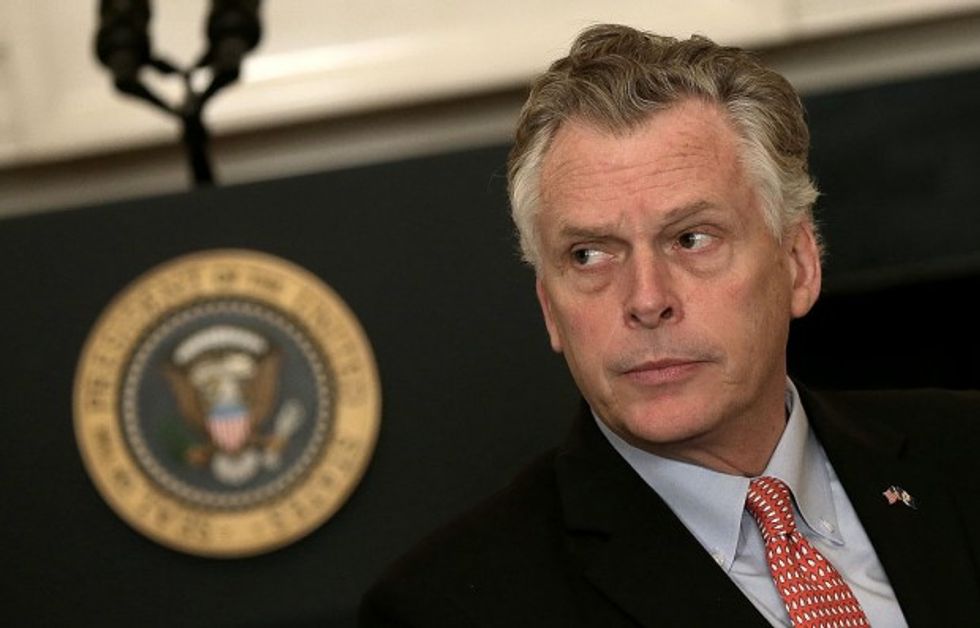 Virginia Democratic Gov. Terry McAuliffe (Getty Images/Win McNamee)
It was McAulifee and other Virginia Democratic leaders who encouraged McCabe to run, according to the Journal. The state Democratic Party even donated an additional $200,000 to her campaign.
From the WSJ:
The Virginia Democratic Party, over which Mr. McAuliffe exerts considerable control, donated an additional $207,788 worth of support to Dr. McCabe's campaign in the form of mailers, according to the records. That adds up to slightly more than $675,000 to her candidacy from entities either directly under Mr. McAuliffe's control or strongly influenced by him. The figure represents more than a third of all the campaign funds Dr. McCabe raised in the effort.

Mr. McAuliffe and other state party leaders recruited Dr. McCabe to run, according to party officials. She lost the election to incumbent Republican Dick Black.
However, the FBI contends that McCabe, who just a few months after his wife's failed campaign was promoted from associate deputy director to deputy director, played no role in his wife's campaign. According to the report, it was only after his promotion that he was given a direct oversight role into the Clinton email probe.
More from the WSJ:
As deputy director, Mr. McCabe was part of the executive leadership team overseeing the Clinton email investigation, though FBI officials say any final decisions on that probe were made by Mr. Comey, who served as a high-ranking Justice Department official in the administration of George W. Bush.
Still, the report says that McCabe's role in the Clinton investigation wasn't seen as a conflict of interest because his wife's campaign was already over. In addition, McCabe sought ethics advice from the bureau in order to avoid any allegations of public corruption.
McAuliffe served as the chief fundraiser to President Clinton in the 1990s and has remained close to the former first couple and a powerful figure in the Democratic Party's ranks.
The Virginia governor is currently under investigation by the FBI for allegedly making improper campaign donations on behalf of a Chinese businessman, though McAuliffe has denied any wrongdoing in the case.