Democratic presidential nominee Hillary Clinton and her Republican counterpart, Donald Trump, are virtually tied in the state of Arizona, a new Monmouth University poll shows.
Likely Arizona voters polled split, 46 percent for Trump and 45 percent for Clinton, with 4 percent planning to vote for Libertarian candidate Gary Johnson and 1 percent in support of Green Party candidate Jill Stein.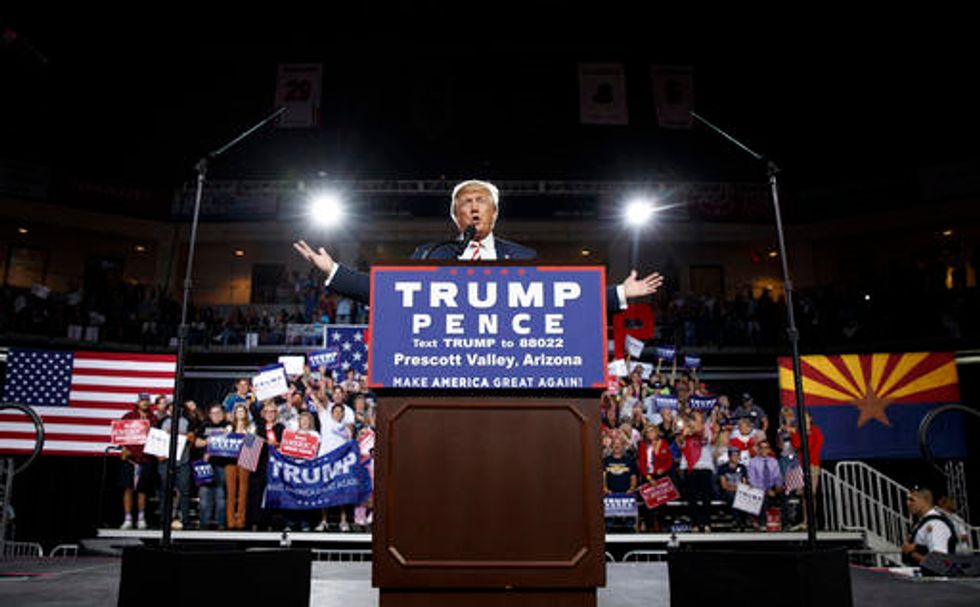 Donald Trump speaks during a campaign rally in Prescott Valley, Arizona, Oct. 4. (AP/Evan Vucci)
Clinton's sizable support with Hispanic voters, who make up one-fifth of Arizona's voting public, helps her greatly in the border state. She leads Trump among Hispanic likely voters, 65 percent to 30 percent.
But Trump is maintaining a slight lead among white women, with 47 percent of likely white female voters' support, as compared to Clinton's 44 percent.
More than half of Arizona's voters are expected to cast their ballots prior to Election Day on Nov. 8. Right now, Clinton has a 52 percent to 42 percent lead with voters who have already submitted ballots.
But Trump leads among voters who plan to cast their ballots on Election Day, 49 percent to 41 percent.
Arizona is a historically red state, but has become more of a swing state in recent cycles. However, the last time that Arizona voters chose a Democrat for president statewide was in 1996 for former President Bill Clinton's re-election.