The race for the White House this year will undoubtedly come down to a handful of swing-states — Ohio, North Carolina, Pennsylvania, Florida, Colorado and a few others — so it's imperative for both Donald Trump and Hillary Clinton to put maximum effort into winning as many of the battleground states as possible.
Ohio, however, is a state proving to be a toss-up — some polls show Clinton up while others show Trump leading. According to the RealClearPolitics polling average, Trump currently leads the former first lady by 1.1 points.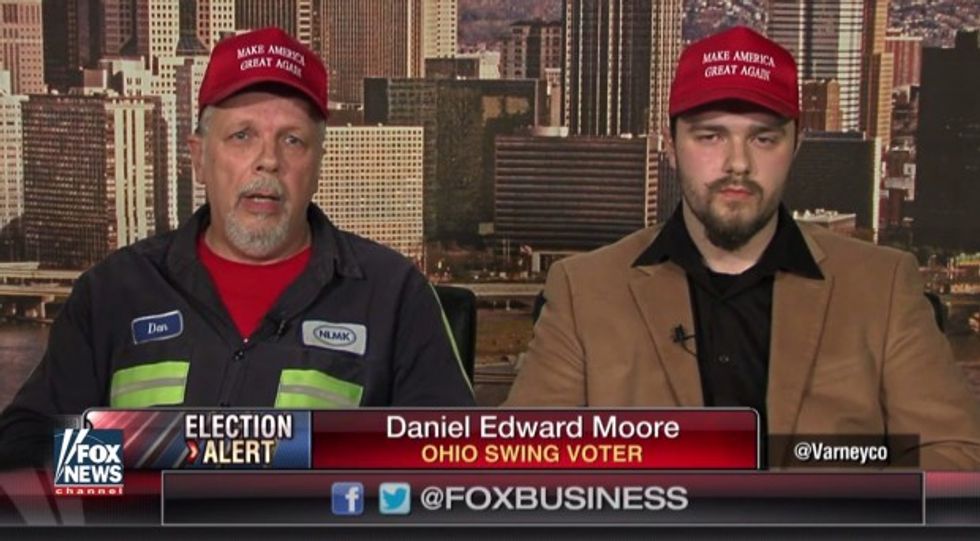 Image source: Fox News
But if you talked to Daniel Edward Moore and Daniel Jonathan Moore as Fox Business did Wednesday, you'd think Trump's lead would be a whole lot larger.
The father and son, who said they were Democrats before and even voted for President Barack Obama, told Fox Business host Stewart Varney that they're part of the "75 percent of Americans who think our country is going in the wrong direction."
"At that time, President Obama did seem like he was going to make a difference — help the direction of our country. I liked what he had to say ... his promise to review NATFA ... so I was disappointed when he did not do that," Edward Moore said.
Jonathan Moore said Trump's celebrity and businesses successes is what attracted him to the real estate mogul.
"He has this sense of what's required for excellence," he said. "I think if he can take that to the Oval Office, that would just be great for this country.
Edward Moore, who said he's a member of the American Steel workers union, later said in the interview that many of his coworkers and supervisors are also supporting Trump.
"I work at NLMK. It's a Russian-owned steel mill in Farrell, Pennsylvania," he said. "Quite a large number of my supervisors and coworkers are supporting Trump."
Watch the full interview below: