Hillary Clinton now leads Donald Trump by only three points, according to the latest presidential poll from Fox News.
The Democratic presidential nominee leads Trump 44 to 41 percent, within the margin of error of the survey of likely voters. The Fox poll is a shift from last week, when Clinton enjoyed a 6-point lead over the Republican presidential nominee. Only one voter for every 10 backs a third-party candidate and 4 percent are undecided.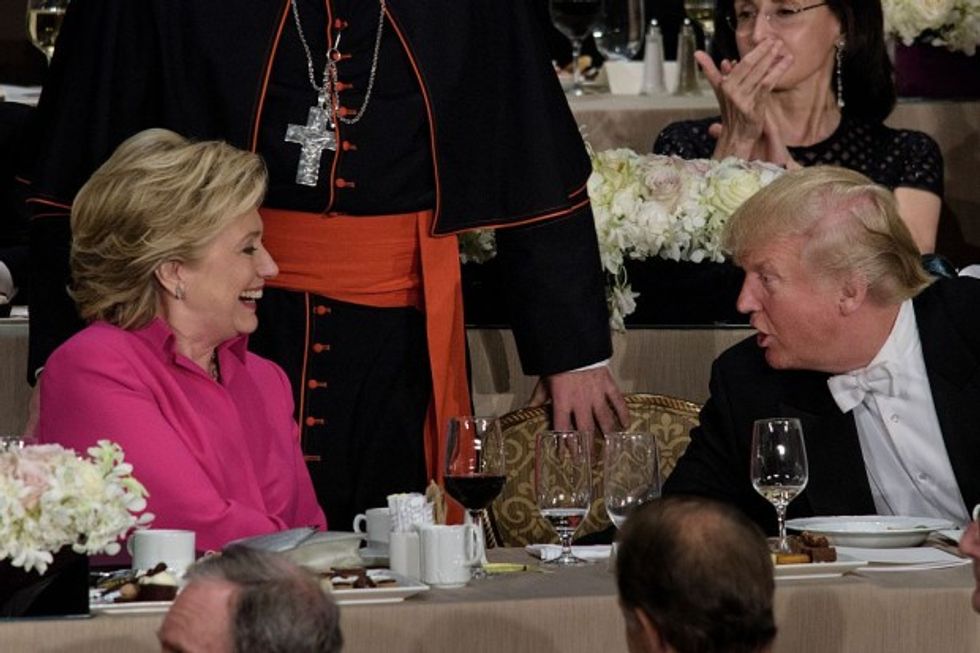 Democratic presidential nominee Hillary Clinton and Republican presidential nominee Donald Trump shake hands after speaking during the Alfred E. Smith Memorial Foundation Dinner at Waldorf Astoria Oct. 20, 2016, in New York. (BRENDAN SMIALOWSKI/AFP/Getty Images)
The boost favoring Trump comes from an increased backing among independent voters, who favor the billionaire businessman by a 13-point margin, according to the poll. In a four-way race between Trump, Clinton, Libertarian presidential nominee Gary Johnson and Green Party candidate Jill Stein, Trump takes the lead among white voters (+14) and men (+5). But his strongest demographic is white evangelicals (+56) and white voters without a college degree (+28).
Clinton's strongest voting blocs include black voters (+77), unmarried women (+27), voters under 30 (+18) and women (+10). In addition, first-time voters are expected to back her by a 16-point margin.
Both Trump and Clinton enjoy roughly equal support from their parties: 83 percent of Democrats back their nominee and 81 percent of Republicans support their candidate.
While 50 percent of voters favor Trump on the economy, Clinton bests her GOP rival when it comes to qualification to lead (64 percent), appropriate temperament (62 percent) and proper judgement (56 percent). In addition, voters are more trusting of the former secretary of state on issues such as foreign policy (+15), immigration (+3) and terrorism (+3).
When it comes to favorability, both candidates have issues, though Clinton is polling a little better. The Democratic candidate is 45 percent favorable and 53 percent unfavorable, while Trump is 42 percent favorable and 56 percent unfavorable.