Conservative, pro-life activist Star Parker tangled intensely with a pro-choice professor after Parker's lecture at California State University, Los Angeles, on "How Abortion Has Hurt People of Color."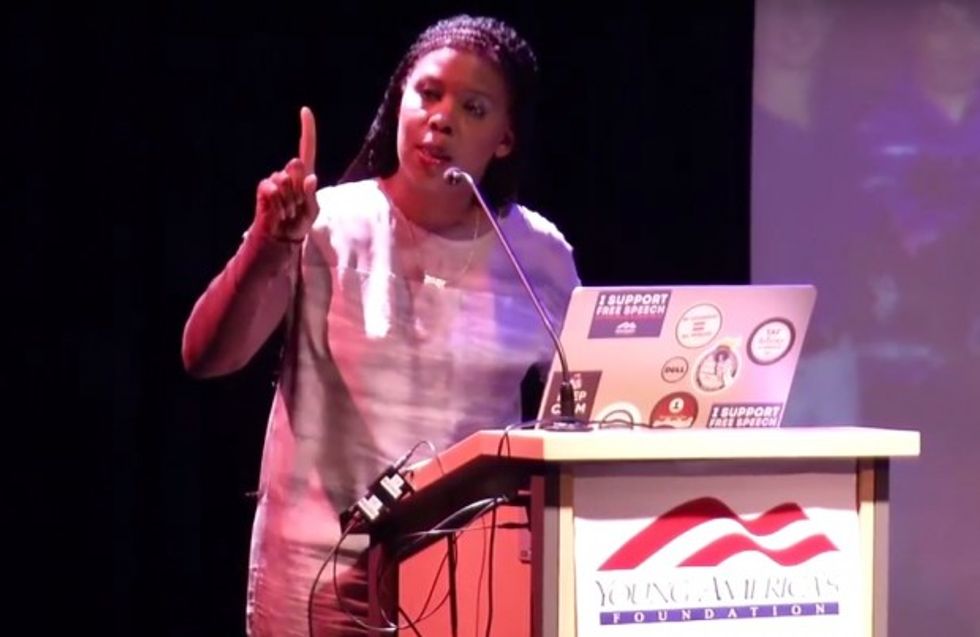 Star Parker replies to professor's question at California State University, Los Angeles. (Image source: YouTube)
During the Q&A session following last week's event, psychology professor Heidi Riggio stepped up to the microphone and peppered Parker with stats arguing that women die from illegal abortions, not from legal abortions, Campus Reform reported.
At one point Parker tried to get a word in, calling Riggio "honey."
"Don't call me 'honey,' thank you," Riggio replied.
Things got increasingly tense from there, culminating with a fiery back-and-forth highlighted by Parker's assertion that "in a civil society, abortion should not be legal," which drew applause from the audience.
Riggio replied, "You want to impose your religion on everybody!"
[sharequote align="center"]"... one of us is going to win."[/sharequote]
"Would you consider slavery a religious question?" Parker fired back.
"I'm not talking about slavery!" Riggio replied.
Parker then argued that slavery and abortion need to be viewed as closely related, noting that the Supreme Court's disastrous Dred Scott decision in the 19th century upheld slavery by using "verbatim" language found in Roe v. Wade.
"I answered your question that abortion should not be legal ... and we're going to do everything we can to end it, as we did with slavery," Parker told Riggio as her tone sharpened, "and I get the final word because you asked your question and there are others waiting."
"No you don't!" Riggio retorted. "I'm going to continue teaching my students here at Cal State L.A. that abortion should be safe and legal! Your movement is to impose your religious beliefs on everybody in the country!"
"And one of us is going to win," Parker replied.
"It's not going to be you!" Riggio insisted as she prepared to leave the room.
"That's what they said during slavery," Parker concluded, "and 680,000 dead later, it ended."