SSG Travis Mills lost all four of his limbs in an IED explosion that occurred during his third tour of duty in Afghanistan. Since his injury, Sergeant Mills has become a noted motivational speaker and veterans' issues activist whose story has inspired millions across the country. Mills sat down with conservative talk radio host Glenn Beck today, and Beck asked him, "Do you regret the day you lost your limbs?"
Many might have expected the sergeant to reflect positively on the new things he can do in his life, but instead he honestly answered, "Oh, absolutely. I get asked that all the time, you know, 'Would you go back in time with all the great things you've been doing?' Absolutely, I would. I would love to take my kid and throw her in the air and catch her."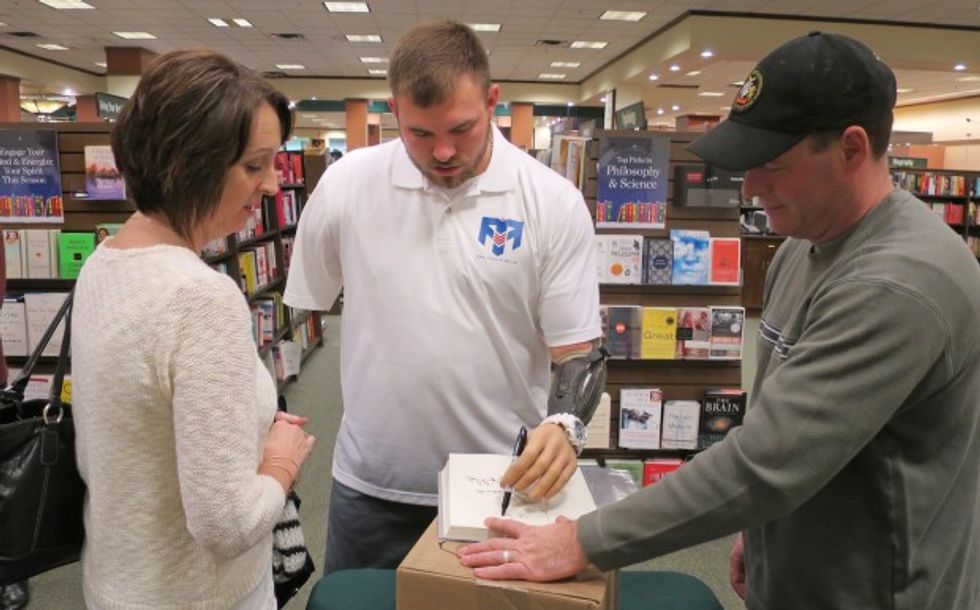 Retired Army Staff Sgt. Travis Mills, center, signs a book for Lori Jones, left, of Unity, Maine, whose husband became ill and died after a deployment to Iraq, at an event promoting Mills' book, "Tough As They Come," on Tuesday, Dec. 1, 2015, in Augusta, Maine. Mills, who lives in Manchester, Maine, lost all four limbs as a result of an IED blast in 2012 in Afghanistan. (AP Photo/David Sharp)
Mills went on to talk about where he would be if his fateful accident had never happened, which would have involved continuing his career in the military and starting a family. Mills denied that the experience changed him fundamentally and, in fact, emphasized that the core of his message is that he is still the same person inside that he was before.
Mills said that what motivates him to have such a positive attitude is the recognition that he is more fortunate than so many of his fellow veterans who fought in the war on terror:
And, really, when it boils down to everything -- you know, there's so many men and women that have lost their lives for this country. And I tell the story of my buddy Francis. Went by Frankie. He was a really close friend of mine. And he didn't make it home. He had a daughter that was four. Now she's going on eight. He had a wife of four years, Christine. And, you know what, he doesn't get to take his daughter trick-or-treating. On Monday, I'm taking my daughter trick-or-treating. He doesn't get to take his wife on dates. My wife and I go on dates all the time. And my parents are very close to me. His mother would give anything — his mother would give anything to have him come back. And, you know what, he's not coming back. And it's sad, but it's true.

So why would I want to live my life down and out, you know, dwelling on the past and angry, when I could be out there and changing people's perspective on life, letting them know, life goes on? And think about the lives lost.
Mills also talked about the people who assume his problems are insurmountable or worse than what the ordinary person faces:
I don't think my problems are more than anybody else's. You know, we have all our things that we go through. We have family members that deal with cancer. We have things that we go through.

And if my story helps get people through it or past what they're going through, great. If I can be a positive light or mentor for people, that's what I try to do. But I will never sit there and say, "Well, that's a dumb thing to be upset about, or that's stupid."