Vice President Joe Biden has spent more than 40 years in politics, and he might be looking at a few more. Hillary Clinton's campaign is reportedly considering the former senator, who chaired the Foreign Relations Committee before joining President Barack Obama's administration, for secretary of state.
According to an unnamed source who spoke to Politico about the matter, neither Clinton nor any of her aides have informed Biden about the possibility because they are still determining how best to approach the vice president, who seriously considering running against the former secretary of state for the Democratic presidential nomination.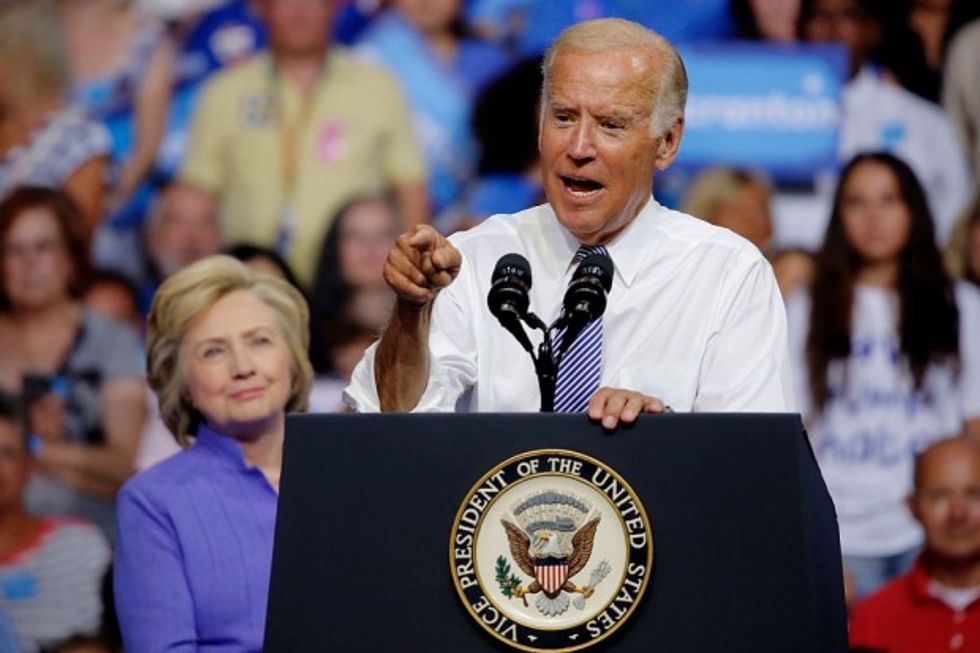 Vice President Joe Biden campaigning with Democratic presidential nominee Hillary Clinton (DOMINICK REUTER/AFP/Getty Images)
Biden has since campaigned vigorously for Clinton.
"He'd be great, and they are spending a lot of time figuring out the best way to try to persuade him to do it if she wins," the source familiar with the transition planning told Politico.
Throughout the course of the campaign, Biden has been deployed internationally to ease concerns some foreign leaders may have about a potential Donald Trump presidency. In August, he went to Latvia to insist to NATO allies that the U.S.'s commitment to them will remain strong, despite Trump's insistence that the alliance is no longer in the best interest of the country. In an appearance in Toledo earlier this week, Biden said he recently spoke to the Latvian president, who asked him to reassure European allies that NATO will defend them if Russia were to attack.
Should Clinton tap Biden for the secretary of state position, it would be her first major Cabinet selection and perhaps the most telling for a potential president who once held the same position in Foggy Bottom. In addition, Biden would be an interesting choice, given the two lawmakers have frequently clashed on foreign policy matters:
She'd also be choosing someone with whom she repeatedly clashed as secretary of state, with the vice president often playing the skeptic while she supported more aggressive action. They differed over leaving troops in Iraq, the surge in Afghanistan, and whether to arm Syria's rebels and bomb Libya — and Clinton took the more hawkish line in every case. During the Obama administration's lengthy review of Afghanistan policy early in his tenure, for instance, a skeptical Biden urged the president not to escalate the war, while Clinton backed Gen. Stanley McChrystal's request for 40,000 more troops.
Ultimately, if Biden isn't offered the position, or turns it down for some reason, the six-term senator turned vice president has already given a little insight into what he might do to keep himself busy, once he's done telling Trump he wants to take him "behind the gym," that is.
"I may write a book," Biden said during a recent campaign stop for Clinton. "This might disappoint you: It won't be a tell-all book."