As Donald Trump attended the ribbon-cutting ceremony for his new hotel in Washington, D.C., on Wednesday, a group of anti-Trump protesters showed up outside where they held up a defaced American flag. But one woman who said she is the daughter of a U.S. veteran wasn't having it.
On the flag were written quotes from the now-famous 2005 "Access Hollywood" video in which Trump was caught making lewd comments about women.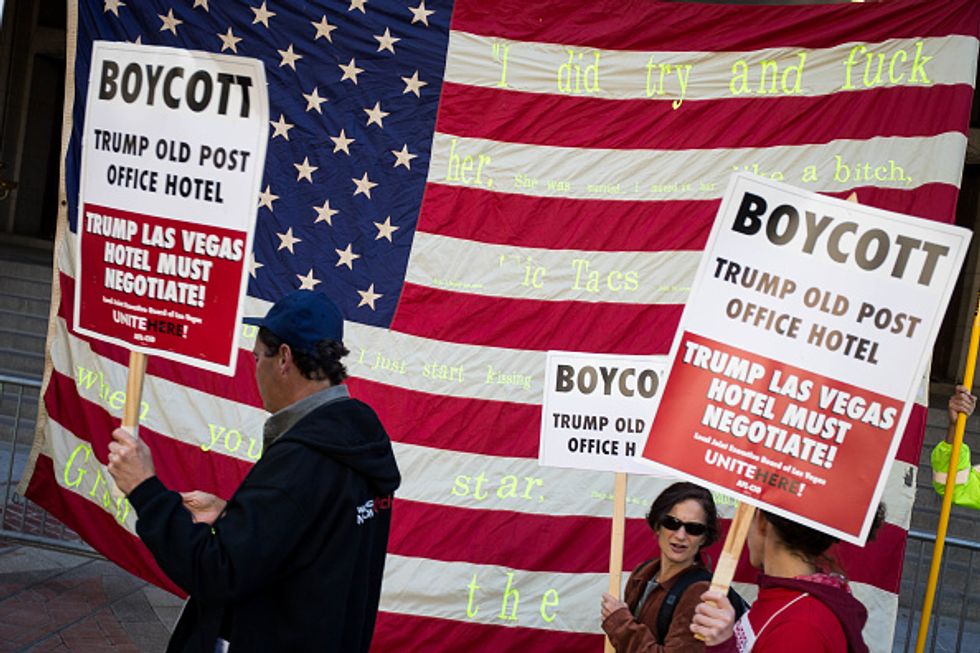 Demonstrators gathered outside the Trump International Hotel Washington before its grand opening Washington, D.C., Wednesday. (Zach Gibson/AFP/Getty Images)
"My father fought for this country in the Army, this is a disgrace," the woman, who was not identified, said in response to the defaced American flag. The Washington Examiner reported that the woman who stood up to the protesters is from Florida.
She went on to say the protesters have every right to state their opinions "but don't write it on our flag."
One protester, whom the Washington Examiner identified as Charlise Michelle Jones, was later heard shouting obscenities about America and its origin.
"F*** this nation, it's not a God-given nation," Jones said. "F*** the American flag, that f***ing flag is bulls**t."
Trump's newest property in the nation's capital, which is located just a few blocks from the White House, was vandalized earlier this month with Black Lives Matter graffiti, as TheBlaze reported at the time.