The answer to what really matters this election season is finally here: Is it "bigly" or "big league?"
For months, Donald Trump has been the catalyst for unending social media chatter for an untold number of reasons, but one of the controversies that has taken the internet by storm time and again is whether the Republican nominee is saying "bigly" or "big league" during his frequent campaign stops, so Eternal Word Television Network host Raymond Arroyo asked the billionaire businessman about the phrase Thursday.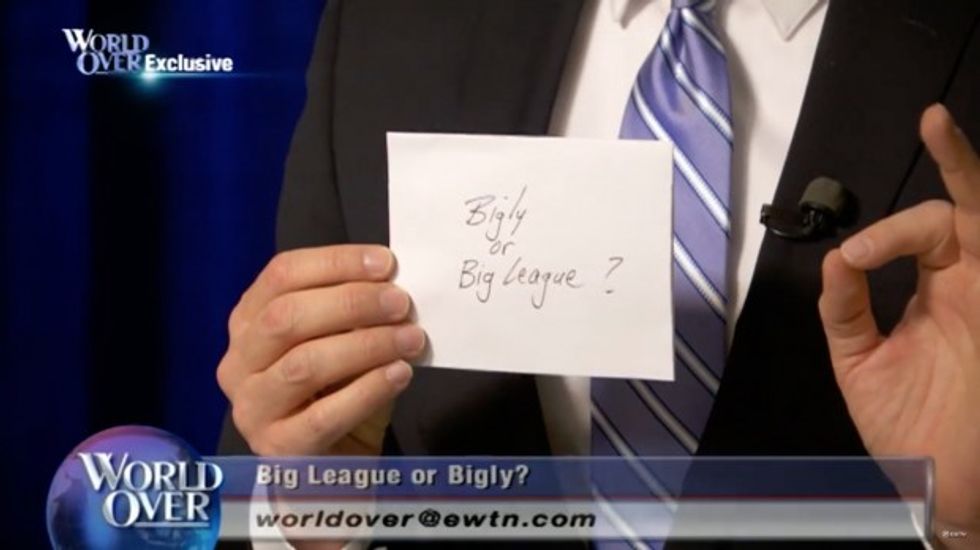 EWTN
Arroyo discussed several topics with Trump, from questions on health care and his past comments about women to WikiLeaks revelations and the economy, but it was the "bigly" versus "big league" question that grabbed headlines because, believe it or not, no one's ever actually asked Trump about it, despite the well-documented confusion on the meaningless subject.
"We've been seeing on social media, we've been seeing it in The New York Times, in USA Today: Are you saying 'bigly' or 'big league?'" the EWTN host asked. "And my guess is within. So there's money riding on this."
"Now, let me ask you, are you talking about for me?" Trump inquired.
Arroyo asked again, "When you're speaking on the podium, and you say, 'This is … ?'"
"I, I use, 'big league,'" Trump said.
As it turns out, Arroyo was correct. The fact that it sounds as if the Republican standard-bearer is saying "bigly" probably amounts to nothing more than his strong New York accent.
Now that the bigly controversy is settled, America can rest easy.
Watch the video below: